Introduction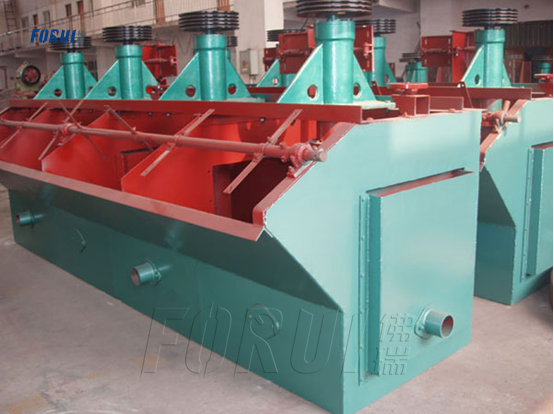 The flotation machine is mainly used to extract fine-grained embedded gold, silver, copper, iron, lead, zinc, molybdenum, nickel, aluminum, and other metal minerals.
Flotation machine is the abbreviation of flotation concentrator, which refers to the mechanical equipment that completes the flotation process. In the flotation machine, the ore pulp treated by adding chemicals is agitated and aerated, so that some of the ore particles are selectively attached to the bubbles. It floats to the surface of the slurry and is scraped out to form a foam product, while the rest is retained in the slurry to achieve the purpose of separating minerals.
Use and Maintenance
1. When installing the equipment, apply level correction, and the feeding end is higher than the discharging end.
2. Before starting the machine, check whether the bolts of each part are loose, whether the impeller back tightening nut is reliable, whether the V-belt and impeller are flexible and reliable, whether the slurry circulation pipe is blocked or leaking, whether each rotating part has a safety cover.
3. No-load operation without slurry in the tank is strictly prohibited.
4. The height of the gate should be carefully adjusted during work to keep the liquid level stable and the foam scraped into the flow trough.
Vulnerable Parts
Impeller
Online Consultant
Gongyi Forui machinery factory, founded in 1986. We are one of the leading suppliers of beneficiation equipment in Asia. Don't hesitate to Contact Us, if you have any questions.