Introduce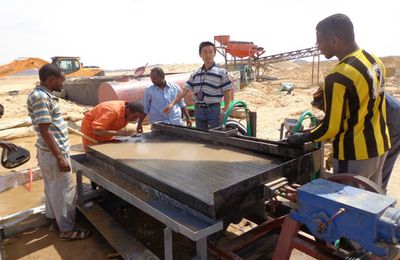 Shake Table produced by our company is a kind of gravity ore dressing equipment, which is mainly used to separate rare metals and precious metal ores such as gold, silver, lead zinc, tantalum zinc, tin, and so on. The role of the shake table is similar to that of the centrifugal gold separator, which belongs to the beneficiation equipment of the alluvial gold washing and separation, and is rarely used for the coarse separation of the alluvial gold ore, most of which are used for the beneficiation and purification of the coarse concentrate of the alluvial gold ore. High purity gold can be extracted.
Features
It has the advantages of high enrichment ratio, good separation efficiency, and simple operation, and the final concentrate and final tailings are obtained at one time. Compared with the traditional technology, it has the advantages of no medicament, low energy consumption, and easy management, and has a higher performance-price ratio.
Working Principle
The ore dressing shake table can make the ore particles move in different directions according to their density and particle size, and fan out along the diagonal line from the ore feeding trough, and discharge along the edge of the bed surface in turn. The ore discharge line is very long and can accurately produce a variety of products of different quality, such as concentrate, secondary concentrate, medium concentrate, and tailings. Mineral dressing rocker is used as heavy separation equipment, which has been widely used in the separation of minerals such as alluvial gold, mainly for gold separation or coal preparation.
Online Consultant
Gongyi Forui machinery factory,  founded in 1986. We are one of the leading suppliers of beneficiation equipment in Asia. Don't hesitate to Contact Us, if you have any questions about beneficiation.