Introduction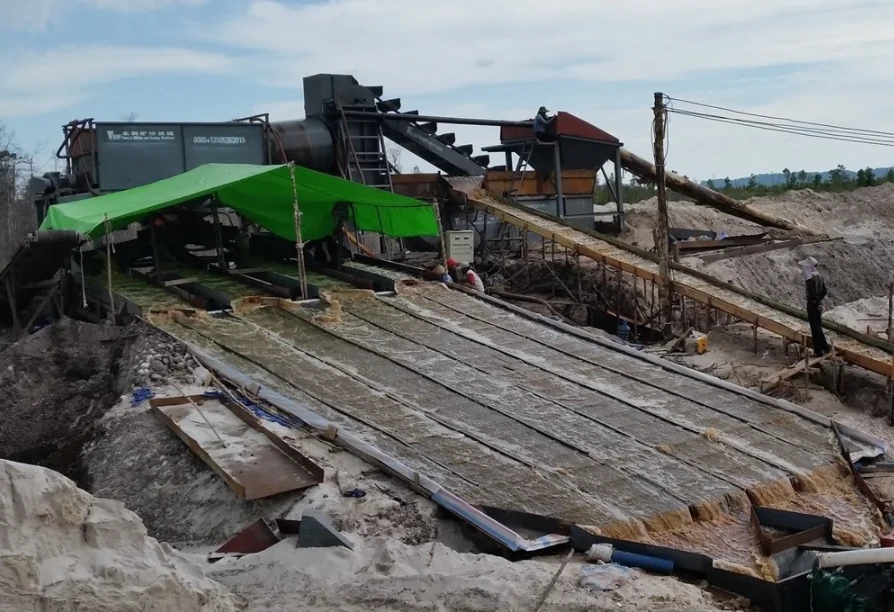 The gold sluice box is a widely used gold mining equipment. Its biggest characteristic and advantage is that the processing capacity is large and the processing cost is low, because it does not need power, and the washing cost is very low.
It is widely used in the field of alluvial gold washing. Almost all alluvial gold mines use all kinds of the sluice box to wash and select gold, because it has a small investment, large processing capacity, and low cost. Is all gold miners are willing to use gold mining equipment.
Features
Small investments
Low cost
Large handling capacity
Simple structure
Reliable work
High extraction rate
Working Principle
Sluice box dressing is a method of ore dressing by using water flowing along the inclined plane. A simple sluice box is a rectangular trough through which the slurry flows. The ore particles are loosened by the current and stratified according to density. The upper light minerals are quickly drained out of the tank. The lower layer of heavy minerals or deposits at the bottom of the trough and is periodically discharged. Or move along the bottom of the trough at a low speed and discharge from the lower part.
The sluice box gold mining is based on the difference between the specific gravity of gold and sand. The slurry flows through the sluice box, the large proportion of gold precipitates in the bottom layer, and the small proportion of sand floats in the upper layer to discharge the working area with the flow of water.
Influence Factors
The technological factors influencing sluice box dressing include volume flow rate, concentration, particle size, cycle time (referring to intermittent work sluice box), length and inclination angle of the trough, paving material of the trough surface, motion characteristics of the trough surface (rotating speed and amplitude), etc.
Online Consultant
Gongyi Forui machinery factory,  founded in 1986. We are one of the leading suppliers of beneficiation equipment in Asia. Don't hesitate to Contact Us, if you have any questions about beneficiation.