The main purpose of the video is to demonstrate the working principle of the jig, in other words, you could understand how the jig improves the ore grade. The video is divided into the following five parts:
1. Measure the ore density
2. Beneficiation
3. Dehydration
4. Measure the density of the results
Finally, we can clearly see that white minerals and black minerals are almost completely separated, thus achieving the purpose of improving the ore grade.
The Working Principle of the Mineral Jig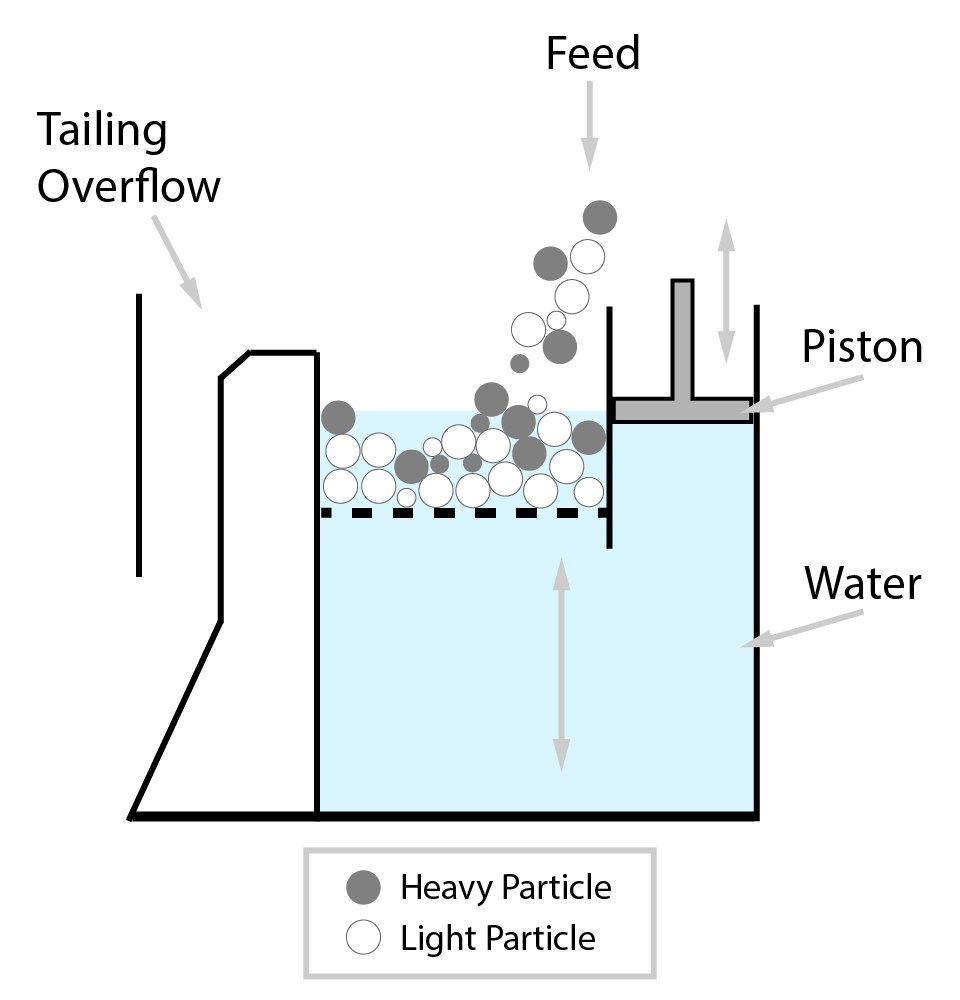 After the raw ore is crushed, it reaches the range of the feed size of the mineral jig concentrator. Then the ore is evenly fed into the feeding trough of the jig machine through the feeding device. During normal operation, the rocker arm swings back and forth under the drive of the motor. The distance of the swing rod moving up and down can be adjusted by adjusting the eccentricity of the eccentric shaft, and the stroke rate of the jig machine can be adjusted by adjusting the motor speed.
The rocker arm swings back and forth regularly to drive the diaphragm to move back and forth, which in turn produces regular up and down fluctuations in the water flow in the jig concentrator. Since the pulsating curve produced by the eccentric link mechanism is a sine wave curve, the water flow produced by this type of jig concentrator is also similar to the sine wave pulsating water flow.
The sine wave pulsating curve forms a vertical alternating current force in the jig machine, and the minerals entering the tank of the jig machine can be re-layered under the action of the vertical alternating medium flow. The denser mineral particles settle fast in the water flow and are located in the lower space of the material layer. However, mineral particles with low density have a slow settling speed in the water flow and are located in the upper space of the material layer.
Advantages of Mineral Jig
1. Large feed size and wide feed size level.
2. The equipment occupies a small area and the processing capacity per unit area is large.
3. The inlet is narrow and the outlet is wide. The material goes through four different beneficiation processes from entering the jig concentrator to exiting the jig concentrator. At the same time, the material layer is getting thinner and thinner, and the recovery rate has been greatly improved.
4. Simple structure, convenient adjustment and easy maintenance.
5. It has four independent beneficiation troughs, each trough's stroke length and stroke frequency can be adjusted independently. One trapezoidal jig has the capacity of four machines.
Gongyi Forui Machinery Factory is a professional manufacturer of beneficiation equipment. Our factory has designed diamond beneficiation technology and equipment configuration for multiple diamond beneficiation plants and has a complete test platform. It can conduct beneficiation tests and design processes for customers free of charge.
If you need equipment quotation and process flow, please feel free to Contact Us