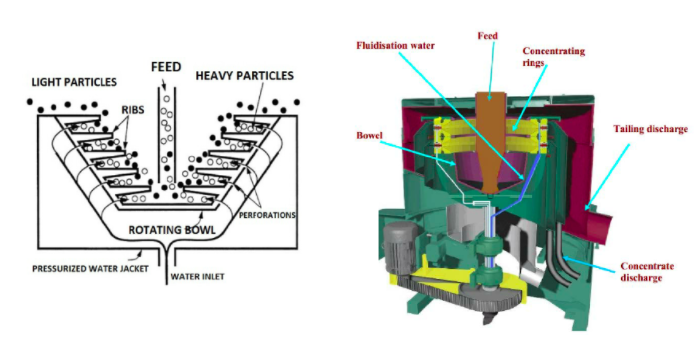 The separation principle of Knelson centrifugal concentrator: 1. The centrifugal force of ores and gangue with different specific gravity is different. 2. Fluidization and loosening of material by recoil water.
When a Knelson centrifuge is in operation, the acceleration of gravity on the inner surface of the inner cylinder increases by 60 times. After the gold pulp enters the bottom of the rotating inner cylinder, the centrifuge throws it to the inner wall of the cylinder under the action of centrifugal force. At the same time, the recoil water flows through the inlet hole on the inner wall from the water sleeve between the inner and outer rotating cylinder. Eventually loosens or fluidizes the seams trapped between the incoming rings.
Due to the simultaneous existence of centrifugal force and the role of recoil. The single gold or gold-bearing heavy mineral can overcome the radial resistance of the recoil water. And then the centrifugal settlement or drill gap penetrates into the fine ore deposit.
Gangue is subject to small centrifugal force, it is difficult to overcome the role of recoiling water. The result is: Gangue is subject to both the axial force and the axial component of the centrifugal force. It is rotated out and becomes tailings.
Gongyi Forui machinery factory, founded in 1986. We are one of the leading suppliers of beneficiation equipments in Asia. Don't hesitate to Contact Us, if you have any question of beneficiation. And welcome to visit our company. Gongyi Forui Machinery Factory dedicated to serve you!