OVERVIEW
For manganese ore which is characterized by low grade, fine inlaid particle size, and high impurity content, to obtain high-quality concentrates that meet the requirements of smelting and chemical production, beneficiation is necessary.
Commonly used manganese ore beneficiation methods are mechanical beneficiation, including ore washing, screening, gravity separation, strong magnetic separation, and flotation. Sometimes pyrometallurgy enrichment is also used.
1. ORE WASHING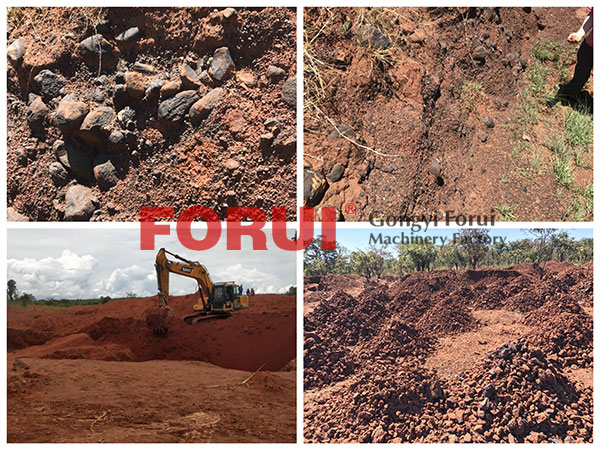 Ore washing is a process for treating muddy ore cemented with clay.
The principle is that under the action of hydraulic, mechanical, and self-friction, the raw ore fragments and disperses the clay entrained or attached to the surface of the ore to realize the separation of the ore and the mud, thereby improving the grade of the ore.
The main factors affecting the washing effect are the physical properties of the clay, the type of ore, the strength of the mechanical force, and the time.
Manganese ore, iron ore, limestone, especially the residual, leaching, accumulation, manganese cap, and other manganese ore deposits formed by weathering, leaching, transportation, and enrichment in the tertiary-quaternary oxidation zone, washing is a must Indispensable homework.
The mud content of primary manganese oxide ore and manganese carbonate ore is low, and the degree of cementation between mud and ore is weak. Generally, it is easy to wash ore. It can be washed with a vibrating screen, and the product under the sieve is deslimed and classified by a spiral classifier.
Weathered manganese oxide ores are medium-washable ores with high mud content (for example, the mud content of sedimentary manganese ores can be as high as 70% to 80%). It is not possible to use a simple water washing method to completely separate the sand and gravel from the mud. It is necessary to use a rotary scrubber or a log washer with a propeller.
After washing, ore and sludge are obtained. The ore is the final product of ore washing for further processing or directly used as a concentrate. When the argillaceous part contains low manganese grade, it can be discarded as tailings, but when its manganese grade is still relatively high, manganese minerals need to be further recovered.
2. GRAVITY SEPARATION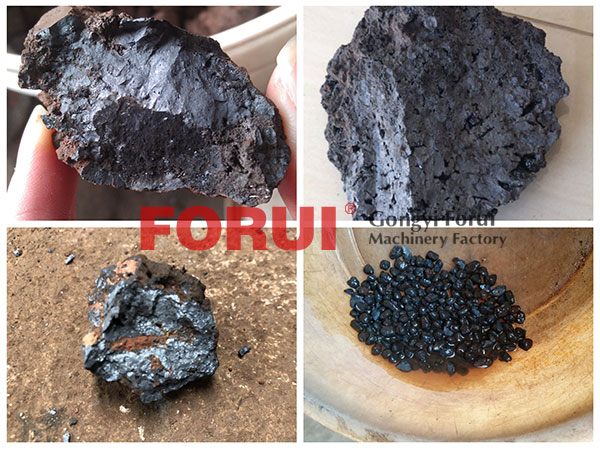 The density of common manganese oxide minerals is between 3.7~5g/cm3, the density of manganese carbonate minerals is between 3.3~3.8g/cm3, and the density of gangue minerals is between 2.6~2.9g/cm3.
Due to the large difference between the density of manganese minerals and gangue minerals, the gravity separation process is suitable for the separation of manganese ore with a simple structure and coarser grain size, especially for manganese oxide ore which is with higher density.
Commonly used gravity separation methods include heavy medium separation, jigging separation, and shaking table separation.
2.1 DENSE MEDIUM SEPARATION
Dense medium beneficiation is generally used as a pre-selection. The advantage is high separation accuracy, but the disadvantage is that the heavy medium recovery system is complicated and the operation requirements are strict.
2.2 JIGGING SEPARATION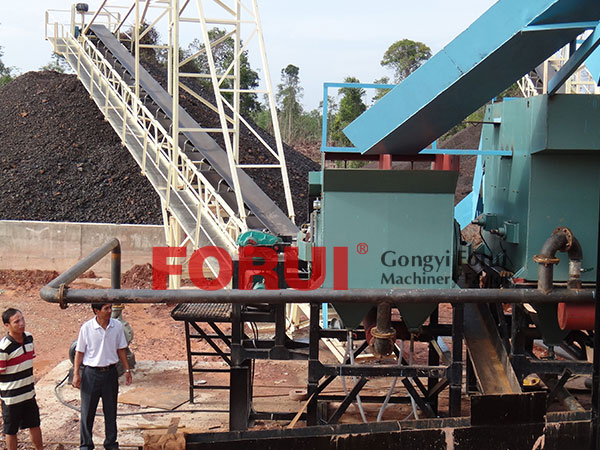 It is mainly used to sort manganese oxide ore, and its feed size ranges from 30 to 1 mm. The advantages of jigging are high productivity, low equipment investment, and operating costs.
2.3 SHAKING TABLE SEPARATION
It is mainly used to process fine-grained manganese oxide ore below 3mm. The advantages of the shaking table are high separation efficiency and simple operation. The disadvantage is that the single machine has low processing capacity and a large area.
3. MAGNETIC SEPARATION
Magnetic separation is a method that uses the magnetic difference between minerals in a non-uniform magnetic field to separate different minerals.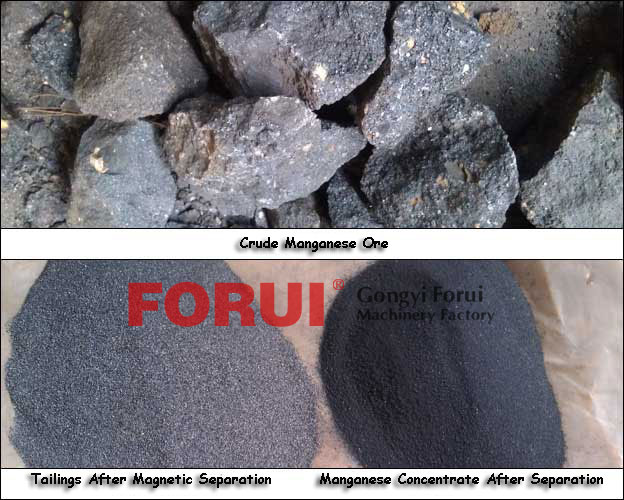 Manganese minerals are weakly magnetic minerals. The specific magnetic susceptibility of common manganese oxide minerals is between (3~15)x10-7 m3/kg. Manganese carbonate minerals are (13.1~16.9)x10-7 m3/kg. While gangue minerals (Quartz, calcite, etc.) is (2.5~125)x10-9 m3/kg. The magnetism of manganese minerals is about 10 times or more than that of gangue minerals, and it is easy to separate them by strong magnetic separation.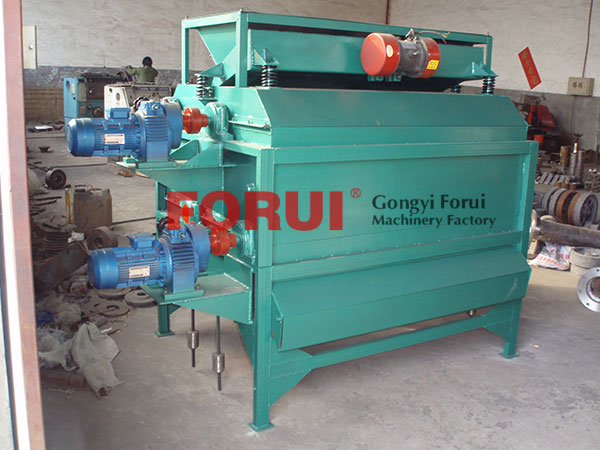 The operation of strong magnetic separation is simple, easy to control, and has strong adaptability. It can be used for the separation of various types of manganese ore.
4. FLOTATION
Flotation is often used to process fine-grained manganese minerals. Among various manganese minerals, rhodochrosite has the best floatability, followed by pyrolusite and hard manganese, and other manganese minerals, especially manganese soil, have the worst floatability.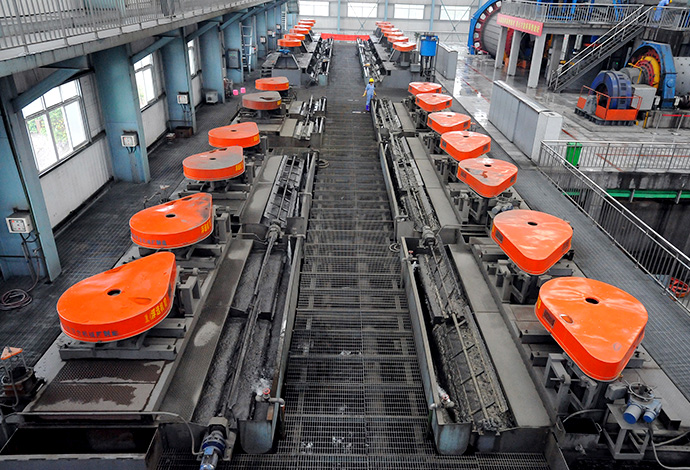 The flotation of manganese ore can be used as an independent operation to produce concentrates and discard tailings. It can also be used as an operation in the combined process of beneficiation.
Because of its complex composition, manganese minerals are tightly combined with gangue and are easy to silt. The flotation reagent consumes a lot and the cost is high. Generally, it tends to adopt the combined process of magnetic-floatation or gravity-floatation separation, first discard part of gangue and solid mud by magnetic separation or gravity separation, and then use flotation for selection.
5. PYROCONCENTRATION
Pyroconcentration refers to the process of selective reduction in a blast furnace or electric furnace. Iron and phosphorus are preferentially reduced, while manganese is enriched in the slag in the form of MnO to obtain manganese-rich slag. It is generally called manganese-rich slag.
Pyroconcentration is suitable for poor manganese ore or ferromanganese ore that is difficult to process by conventional machinery and cannot be directly smelted to ferromanganese ore. The purpose is to remove iron and phosphorus.
Gongyi Forui Machinery Factory is a high-quality enterprise specializing in the production of beneficiation equipment. Over the years, it has produced gravity beneficiation, magnetic separation, flotation, and other beneficiation equipment, and has accumulated a lot of practical experience. Forui Machinery is involved in the lead-zinc ore, gold ore, fluorite, barite, pyrite, hematite, limonite, magnetite, manganese ore, antimony ore, tungsten ore, tin ore, celestite, etc. In the field of beneficiation of a variety of minerals, fruitful results have been achieved.
If you need equipment quotation and process flow, please feel free to Contact Us