Overview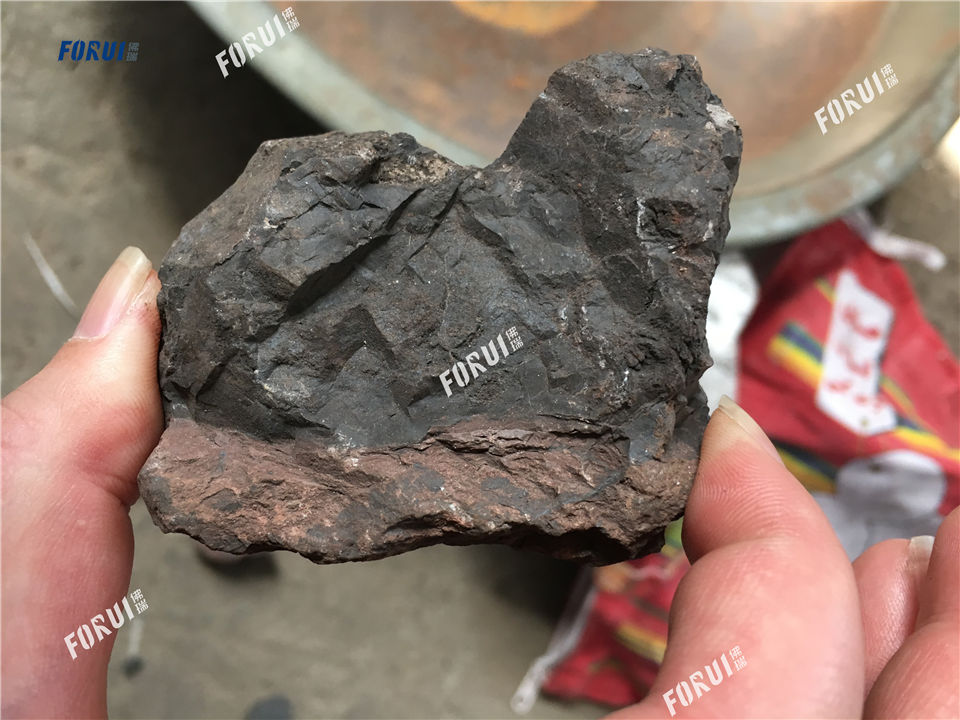 The vast majority of manganese mines in China are lean mines and must be processed. However, because most manganese ores are fine-grained or fine-grained, and contain a considerable amount of high-phosphate ore, high-iron ore, and co- (associated) beneficial metals, it brings great difficulty to the processing of ore. Commonly used manganese ore beneficiation methods are mechanical beneficiation (ore washing, screening, gravity beneficiation, strong magnetic separation, and flotation).
(1) Washing and screening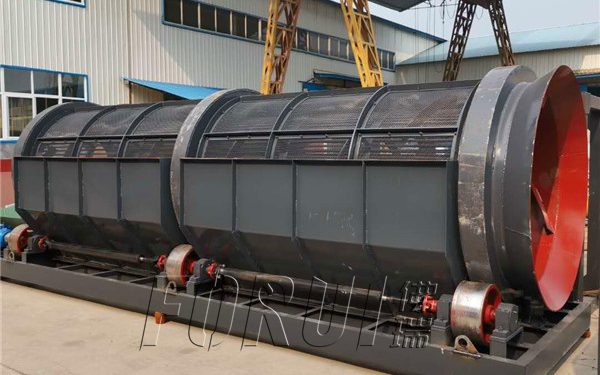 Manganese ore generally contains sludge. This part of sludge not only affects the grade of manganese minerals but more importantly, it will seriously deteriorate the effect of subsequent mineral separation (flotation, gravity separation, and magnetic separation). Therefore, in the case of open-pit mining or ore-bearing mud, the ore must first be washed to remove the sludge. Ore washing is the use of hydraulic washing or additional mechanical scrubbing to separate the ore from the mud. It is mostly used as a pre-processing operation before beneficiation. Commonly used ore washing and desliming equipment include ore washing screen, cylinder washing machine, trough washing machine, low weir spiral classifier, hydro-cyclone, etc.
Most of the manganese carbonate ore is washed, and the vibrating screen is generally used to spray water. The product on the sieve is washed ore, and the product under the sieve is re-sanded and combined with the product on the sieve through spiral classification. Overflow is discarded or further recovered manganese minerals. Manganese oxide ore is generally washed one or more times with a double spiral trough washing machine with strong scrubbing.
(2) Gravity beneficiation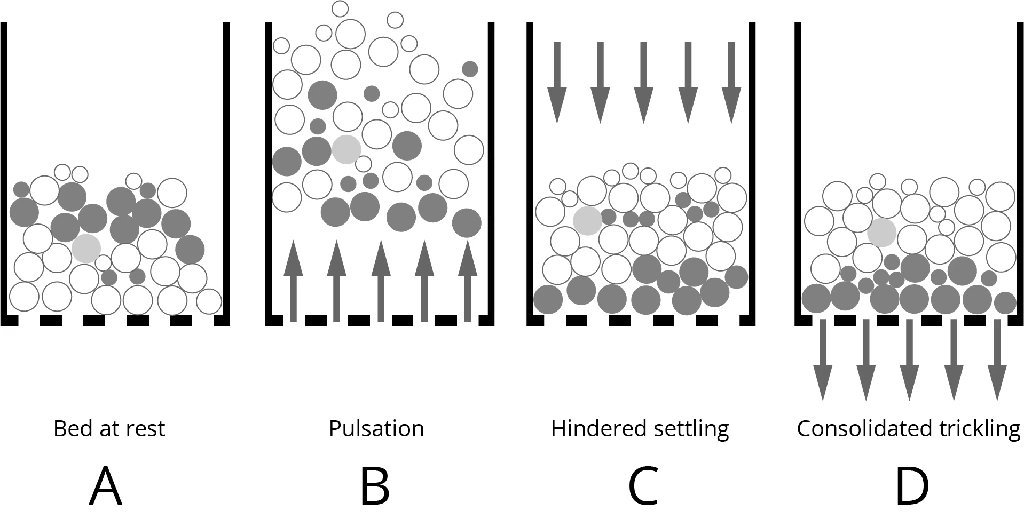 Gravity beneficiation is based on the density and particle size of various minerals. Due to the difference in density between manganese ore and silicate gangue, most of the manganese minerals and gangue minerals can be separated by gravity beneficiation. Commonly used gravity beneficiation equipment for manganese ore beneficiation includes jigs, cone concentrators, spiral concentrators, shakers, and drum separators that use heavy media, cyclones, and vibrating chutes. Gravity beneficiation equipment has different particle size ranges. The size range of the jigger is 0.5-15mm, the spiral concentrator is 0.075-5mm, and the shaker is 0.04-3mm. Before gravity beneficiation, the ore is generally divided into different size grades for separate beneficiation, coarse-grained ore generally uses a jig, medium-grained ore uses a cone concentrator, spiral concentrator, and fine-grained ore with a shaker.
The density of manganese oxide ore such as hard manganese ore, pyrolusite, and brown manganese ore is about 4g/cm3, which is significantly different from the density of silicate gangue, and most of them are separated by gravity beneficiation. Because the density difference between manganese carbonate ore and gangue is relatively small, jigs and shakers are generally difficult to work, and only heavy-medium beneficiation can play a role in enrichment. Manganese carbonate ore mostly adopts the combined process of heavy medium and strong magnetic separation, discarding the surrounding rock in the front section, restoring the geological grade, and deep selection in the latter section.
(3) Strong magnetic separation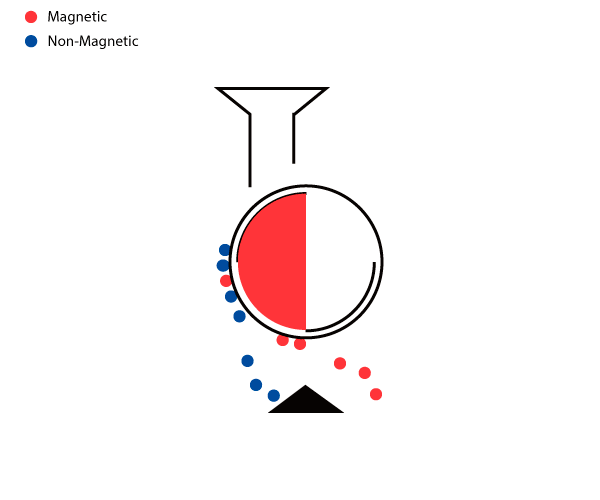 Magnetic separation is a method that uses the magnetic difference between minerals in an uneven magnetic field to separate different minerals. It is easy to operate, pollution-free, and low in production cost. Manganese minerals are weakly magnetic. Strong magnetic separation can separate manganese minerals from non-magnetic gangue minerals.
The strong magnetic separators used in China include 80-1 type and CGD-38 type strong magnetic separator for sorting coarse-grained (10-25mm) manganese ore. The CS-1, CS-2, DQC-1, CGDE-210 type strong magnetic separator developed by the Ma'anshan Mine Research Institute of Sinosteel for sorting medium-grained (1-10mm) manganese ore. SHP and SZC series strong magnetic separators, SLon type magnetic separators for sorting fine-grained (0.05-1mm) manganese ore. In addition, the PMHIS series permanent magnet medium-strong magnetic field separator developed by Changsha Research Institute of Mining and Metallurgy has a magnetic induction intensity of 1.0T, and the upper limit of the sorting particle size can reach 50mm.
(4) Flotation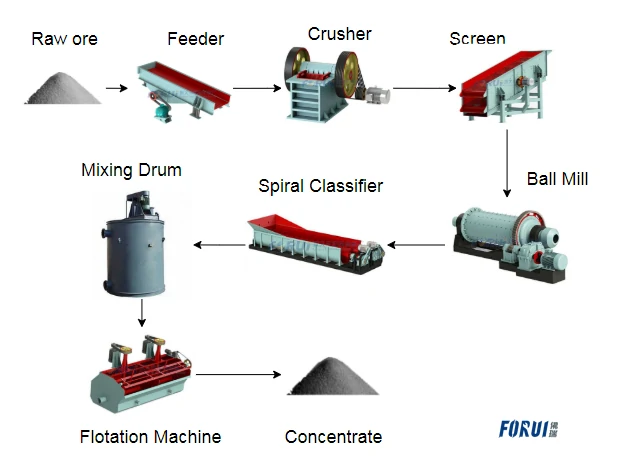 Flotation separation methods are sometimes used for manganese minerals. Different manganese minerals have different floatability, and not all manganese minerals are suitable for flotation. Among the manganese minerals, rhodochrosite has better floatability, followed by pyrolusite and hard manganese, and other manganese minerals, especially manganese soil, have the worst floatability. Therefore, the flotation method is only used for part of the fine-grained rhodochrosite and manganese oxide sludge. The flotation of manganese ore can adopt positive flotation and reverse flotation, and anion reverse flotation is currently used at home and abroad. Cationic reverse flotation is still in the experimental stage.
Gongyi Forui Machinery Factory is a high-quality enterprise specializing in the production of beneficiation equipment. Over the years, it has produced gravity beneficiation, magnetic separation, flotation, and other beneficiation equipment, and has accumulated a lot of practical experience. Forui Machinery is involved in the lead-zinc ore, gold ore, fluorite, barite, pyrite, hematite, limonite, magnetite, manganese ore, antimony ore, tungsten ore, tin ore, celestite, etc. In the field of beneficiation of a variety of minerals, fruitful results have been achieved.
If you need equipment quotation and process flow, please feel free to Contact Us