Introduction
This is a spiral ore washing machine with a length of 9 meters and a width of 2 meters, which will be used in the barite beneficiation production line of our Pakistani customer.
The spiral ore washing machine is suitable for ore washing, grading and impurity removal in ore beneficiation (ferrous metals, non-ferrous metals), metallurgy, chemical, building materials and other industries. Spiral washing machine uses the principle that the solid particles have different specific gravities, so the speed of sedimentation in the liquid is different, and it is a washing equipment for mechanical classification.
Internal Structure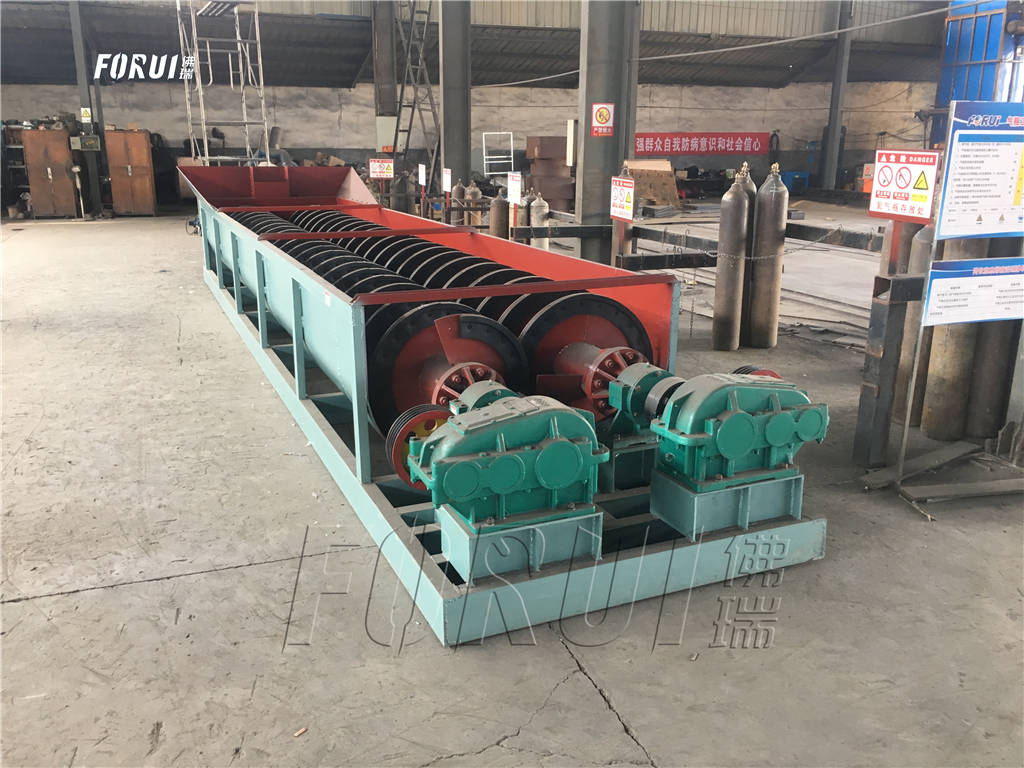 The spiral washing machine is composed of a tank, a reducer, a motor, a central shaft, a spiral blade, a bracket and other structures. The bracket is welded on the central shaft, and the screw blades are installed and compressed with bolts to prevent the blades from sagging and deforming.
Working Principle
The spiral washing machine uses the buoyancy of water to separate dust and impurities from sand. Under the continuous stirring of the spiral blades, the thickness of the material is uniform, and the ore can be dehydrated, removed, lifted and transported at the same time.
Features
The spiral washing machine has the following characteristics: high output, good sealing system, simple structure, convenient maintenance, low sand water content, and low mud content. It is widely used in various ore mining industries.
Gongyi Forui Machinery Factory is a high-quality enterprise specializing in the production of beneficiation equipment. Over the years, it has produced gravity beneficiation, magnetic separation, flotation, and other beneficiation equipment, and has accumulated a lot of practical experience. Forui Machinery is involved in lead-zinc ore, gold ore, fluorite, barite, pyrite, hematite, limonite, magnetite, manganese ore, antimony ore, tungsten ore, tin ore, celestite, etc. In the field of beneficiation of a variety of minerals, fruitful results have been achieved.
If you need equipment quotation and process flow, please feel free to Contact Us