OVERVIEW
The alluvial gold dressing plant is located in Liberian. Its capacity is 5,000 TPD.
The gold ore dressing production line adopts gravity dressing method. Because gold is relatively heavy. The proportion of gold is between 17.50 and 18.0. There is a large specific gravity difference between useful minerals and waste rocks. This is one of the necessary conditions for gravity dressing. Using this property of gold and the specific needs of customers, Forui Machinery Factory designed the following gravity beneficiation scheme.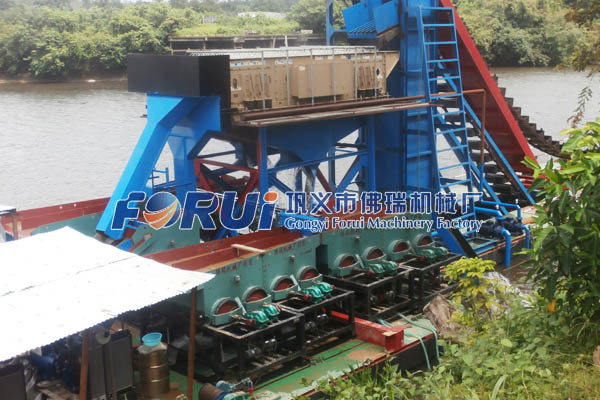 Project Location: Liberian
Capacity: 5,000 T/D
Major Equipments: hopper, vibrating feeder, AM30 Mineral jig, 2LTC-6109/8T Mineral jig, vibrating screen, etc. Which are installed in two large sand dredging ships. The equipments used are all provided by Gongyi Forui Machinery Factory.
---
EQUIPMENTS of ALLUVIAL GOLD DRESSING PLANT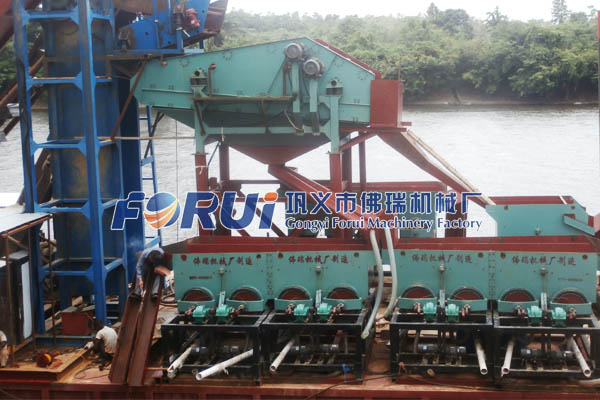 The main equipments of the placer gold processing line includes hopper, vibrating feeder, AM30 Mineral jig, 2LTC-6109/8T Mineral jig, vibrating screen, etc.
PROCESS of ALLUVIAL GOLD DRESSING PLANT
The gold ore is fed into the feeder through the hopper. Then the feeder will feed the raw ore evenly into the linear vibrating screen. A linear vibrating screen divides the gold ore into two grain sizes.
Then, the placer gold that meets the granularity conditions is sent to AM30 Mineral Jig and 2LTC-6109/8t Mineral Jig, respectively. Coarse concentrate and tailings are obtained by gravity separation of gold ore.
Finally, the coarse concentrate from the jig is fed into the amalgamation barrel. The high quality gold
concentrate product is obtained through the treatment of amalgamation barrel and amalgam distillation tank.
ADVANTAGES
The placer gold dressing plant has high efficiency, energy saving and environmental protection, easy installation and maintenance.
RESULT
After field installation and debugging by engineers of Forui Machinery Factory. The grade, recovery rate and yield of gold concentrate obtained by this production line can meet the requirements of customers. The project has brought considerable economic benefits to the client. It has been highly appraised by customers.
Gongyi Forui machinery factory, founded in 1986. We are one of the leading suppliers of beneficiation equipments in Asia. Don't hesitate to Contact Us, if you have any question of beneficiation. And welcome to visit our company. Gongyi Forui Machinery Factory dedicated to serve you!