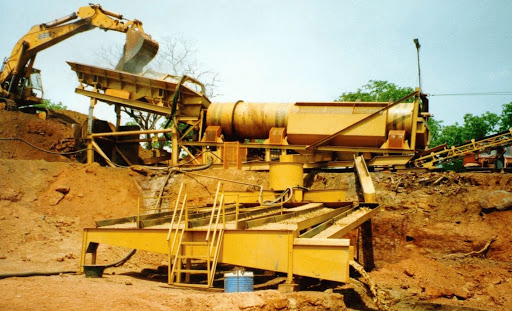 The purpose of Alluvial Gold Beneficiation is to recover gold and all kinds of associated heavy minerals from ganglion minerals as much as possible. And then separate gold and all kinds of associated heavy minerals from each other by combined operations such as gravity separation, mercury mixing, magnetic separation and electrostatic separation. So as to achieve the purpose of comprehensive recovery.
ALLUVIAL GOLD BENEFICIATION APPLICATION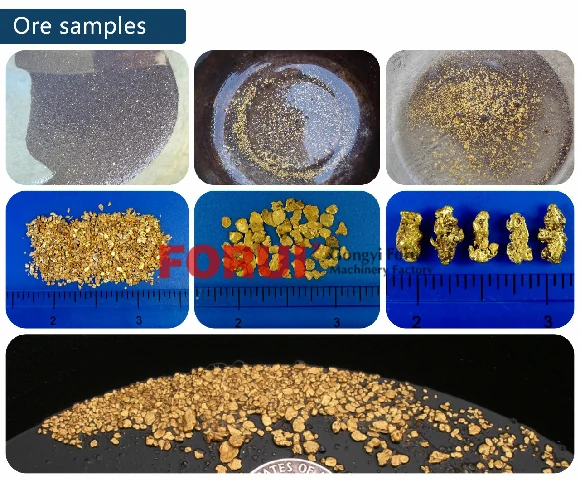 The beneficiation process of placer gold. Placer gold ore is mainly used in seashore placer, riverside placer or alluvial placer. The technological process of placer gold beneficiation includes cracking, screening, desliming, separation and so on.
PROCESSING
1.Alluvial gold ore washing
Many gold ores contain cemented mud masses, some of which are larger than 100 mm in size. If such mud masses do not break up, they will be removed along with the waste rock during the screening process, resulting in gold losses. In addition, vibrating screen and drum screen commonly used as screening equipments. Both long service life, large processing capacity.
2.Alluvial Gold ore dressing method
Practice has proved that the gravity concentration is an effective and economical method for alluvial gold ores.Due to the different particle size composition of gold in alluvial gold deposits, the effective particle size limit of different processing equipment for different alluvial gold deposits is also different. So the reasonable alluvial gold separation process should adopt the joint operation of several different gravity separation equipments.
3.The alluvial gold was beneficiated using Sluice Box/Centrifuge/Shaking table
Sluice Box – A sluice box is a man-made channel that uses riffles to capture alluvial gold via gravity separation.
Gold Centrifugal Concentrator – Gold centrifugal concentrator is a kind of gravity separating machine. It will produce big centrifugal force when rotating, and strengthen gravity process to make the superfine particle effectively recover.
Shaking Table – CAM lever head, change the position of the sliding head on the rocker arm can be adjusted stroke, stroke number is adjusted by the smooth motor pulley. Its advantages are easy to adjust stroke, stable operation of bed surface, compact structure and lower energy consumption.
4.Advantages of placer gold ore Beneficiation
The process is simple, the equipment cost is low and the operation is easy. In addition, the process has the characteristics of environmental protection, can directly discharge tailings, greatly reducing the whole plant project civil construction investment.
5.Placer Gold ore dressing process case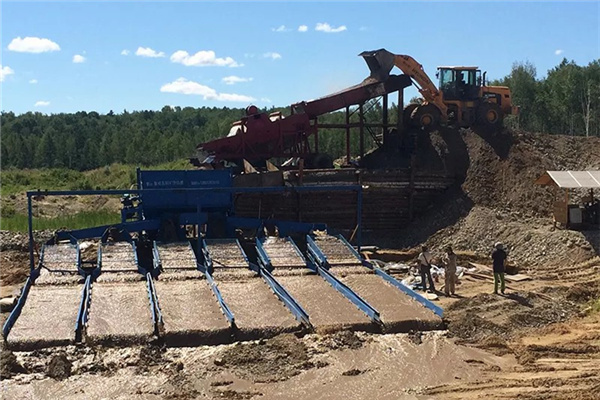 Forui Machinery undertook a placer gold dressing test project. After testing the ore samples, the Forui Machinery ore dressing test lab concluded that the gold ore contained 22g/t of gold. The metallic minerals were mainly magnetite and natural gold, while the non-metallic ores were mainly quartz and feldspar. According to the nature of the ore and the actual situation of the concentrator, Forui Machinery finally decided to adopt the combined process of gravity separation, flotation and magnetic separation.
The test results show that 380.31g/t gold concentrate can be obtained by direct gravity separation of the gold ore with a recovery rate of 98.78%. The gold concentrate of 93.46g/t can be obtained by gravity beneficiation after grinding operation, and the recovery rate is up to 99.34%. The gold recovery rate of this process is much higher than that of direct gravity beneficiation process. At the same time, the iron concentrate with a yield of 6.20% and a grade of 61.38% can be obtained from the tailing.
Gongyi Forui machinery factory, founded in 1986. We are one of the leading suppliers of beneficiation equipments in Asia. Don't hesitate to Contact Us, if you have any question of beneficiation. And welcome to visit our company. Gongyi Forui Machinery Factory dedicated to serve you!