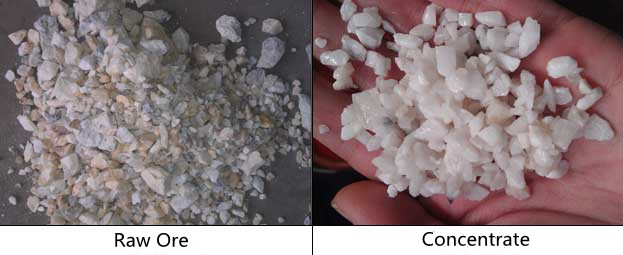 Overview
The beneficiation of barite is based on gravity beneficiation, therefore, the barite beneficiation process is basically a gravity beneficiation process. Gongyi Forui Machinery Factory is here to share a simple barite beneficiation process for the reference of related parties.
The grain size of barite in the ore is generally coarse, but there is also fine-grained barite. In order to improve the recovery rate and beneficiation indicators of the process, the beneficiation engineer of Gongyi Forui Machinery Factory specially designed the following process: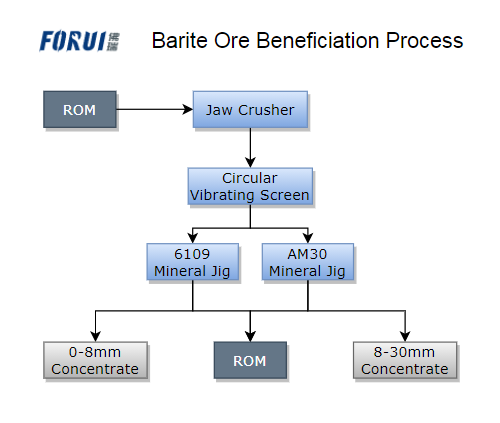 Brief introduction of barite beneficiation process
First, the large barite ore needs to be crushed, and the large ore is broken into small pieces to dissociate the barite from the waste rock monomer. Due to the brittle nature of barite, a jaw crusher is generally used in the crushing process.
Secondly, the crushed barite enters the screening process. Due to the uneven particle size of the crushed barite, in order to make the crushed product particle size reach the optimal feed size for gravity beneficiation, it is often necessary to go through a screening stage. We use screening equipment to screen the ore into 0-8mm and 8-30mm sizes, and then separate them into the silo and feeding system.
The electromagnetic vibrating feeder ensures the uniform and orderly feeding of the materials so that the jigging machine achieves the best effect. The materials of the two sizes are sent to the trapezoidal jig and AM30 jig respectively, and finally, coarse-grained concentrate, fine-grained concentrate, and tailings are obtained. After dehydration, the products are transported to their respective material sites.
The main method of barite beneficiation is gravity beneficiation, so the beneficiation process of barite is also based on gravity beneficiation. The use of gravity beneficiation methods and equipment to process barite is also the most economical, ideal, and most effective beneficiation method at present. All the barite concentrators in most of the barite concentrators use gravity beneficiation technology to process barite ore. The following video shows the barite beneficiation site:
Gongyi Forui Machinery Factory is a professional manufacturer of jigs. In order to meet the needs of our customers, Forui Machinery Factory has specially designed a small beneficiation test platform. We can conduct small-scale beneficiation tests for customers free of charge, and design the beneficiation process and equipment configuration for customers free of charge. Welcome to inquire, contact number: +8618026978087. Gongyi Forui Machinery Factory will serve you wholeheartedly!