Overview
The main component of lapis lazuli is strontium sulfate, which is mainly used in the manufacture of strontium carbonate and the production of television picture tube glass. Its colors are blue, green, yellow-green, orange, light blue-gray, etc., sometimes colorless and transparent.
As a mineral resource, most celestite needs to be purified before use. So what is the beneficiation method, beneficiation process, and equipment configuration of celestite? Gongyi Forui Machinery Factory is here to introduce a simple lapis lazuli beneficiation process and equipment configuration for everyone's reference.
The picture below shows the celestite run of mine ore in Xinjiang: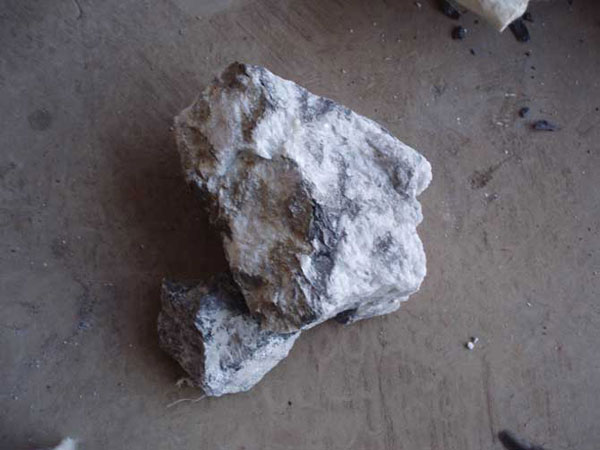 Celestite's beneficiation methods are mainly gravity beneficiation and flotation. Flotation is mainly used for the beneficiation of fine-grained lapis lazuli, and gravity beneficiation is used for the beneficiation of coarse-grained lapis lazuli. The flotation method can obtain high-grade celestite ore, and gravity beneficiation is used to produce coarse-grained celestite nugget ore. The celestite mine in Xinjiang is a coarse-grained cloth. Forui Machinery has designed a simple celestite gravity beneficiation process, as shown in the figure below: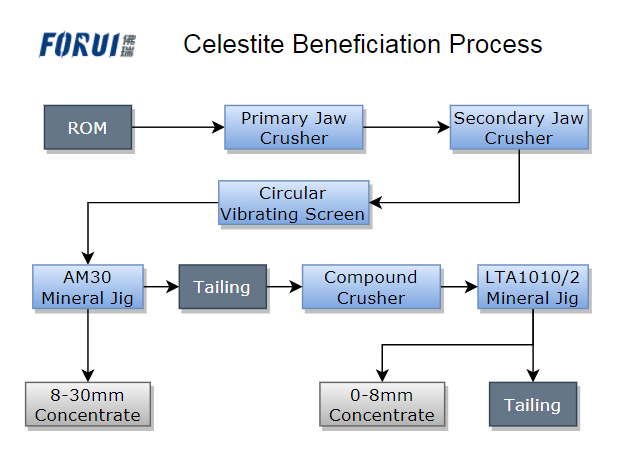 The run of mine ore is sent to the jaw crusher by a trough feeder for crushing and crushed by two jaw crushers, and then the crushed product is sent to a circular vibrating screen for screening operation. The particles larger than 30mm are returned to the fine-jaw crusher to be crushed again, the 8-30mm size materials are sent to the AM30 jigger for sorting, and the 0-8mm size materials are entered into the LTA1010/2 jigger. The tailings of the AM30 jigger are finely crushed by the compound crusher and then enter the LTA1010/2 jigger together with the 0-8mm granular materials that have been screened out. Finally, fine-grained celestite concentrate and final tailings are obtained.
Because the lapis lazuli in Xinjiang celestite mine is uneven in size, in order to ensure the recovery rate of the beneficiation, we crush the tailings of the coarse-grained jigging machine again. Thereby breaking the conjoined body of celestite and gangue in the tailings, and turns them into liberated particles for further sorting and recycling.
The process is a relatively simple celestite beneficiation process. It can be used for the beneficiation of lapis lazuli ore with coarse-grained and medium-grain. For example, the beneficiation of celestite mine in Xinjiang.
Gongyi Forui Machinery Factory is a professional manufacturer of jigging machines. Our factory has rich experience and unique insights on the beneficiation of various non-metallic minerals such as celestite, barite, fluorite, and so on. We can carry out small-scale beneficiation tests for customers free of charge, and design the beneficiation process and equipment configuration. Feel free to inquire, and contact us: +8618026978087.