Overview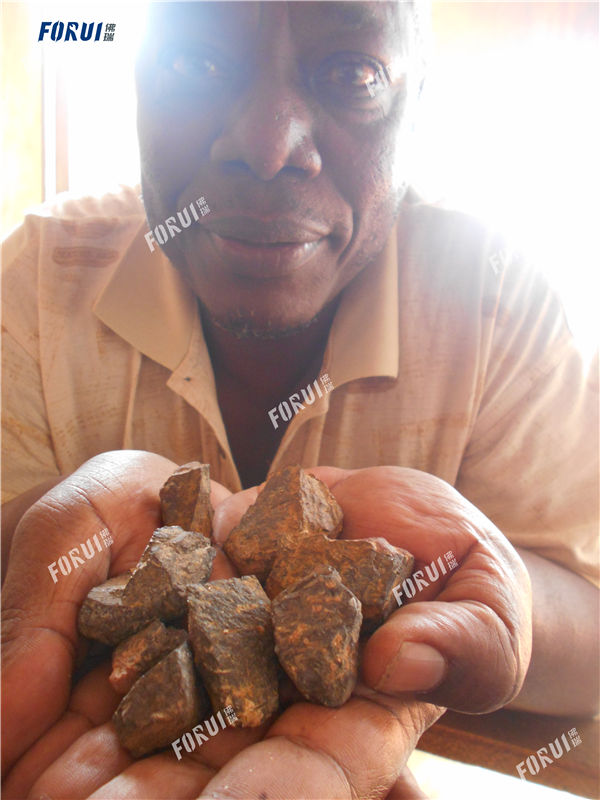 In the previous article, we shared the beneficiation technology of tantalum-niobium ore in China. Today we share the beneficiation technology of tantalum-niobium ore in Africa.
Tantalum-niobium ore refers to the general name of minerals containing tantalum and niobium, and there are more than one hundred species. The tantalum-niobium ore that can be used for ore mining mainly consists of tantalite, columbite, and pyrochlore. Tantalite contains more tantalum called tantalite and contains more niobium called columbite.
African Tantalum-niobium Ore Beneficiation Technology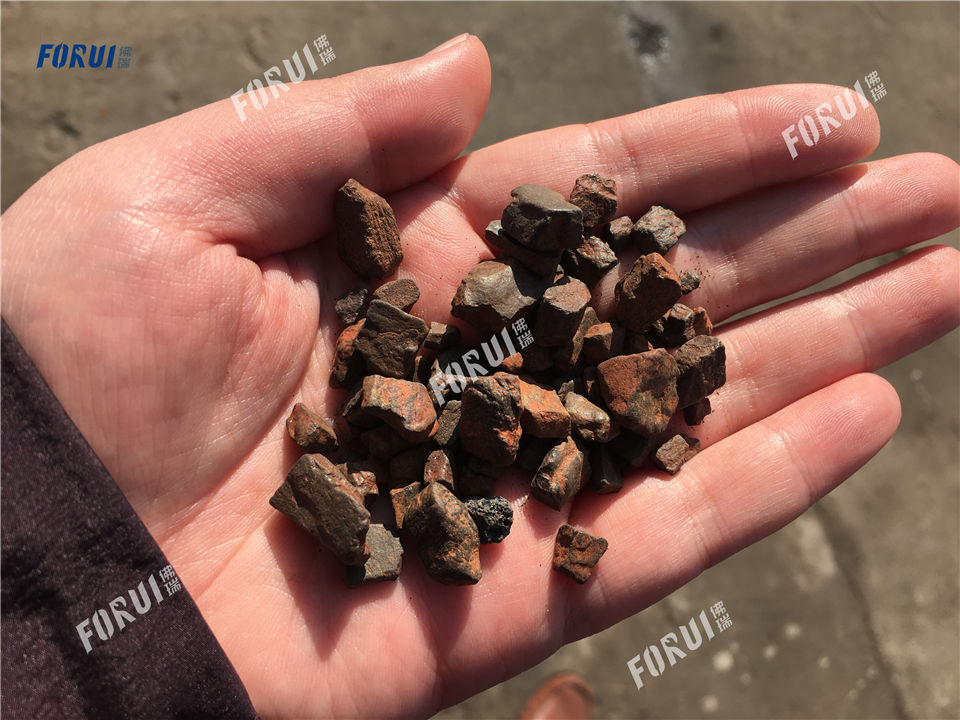 The structure and composition of African tantalum niobium ore are relatively simple, and the beneficiation method is very simple, generally divided into two stages: roughing and beneficiation. In the roughing stage, ore washing and gravity beneficiation are used to obtain coarse concentrate, and in the beneficiation stage, strong magnetic separation is used to obtain the final concentrate.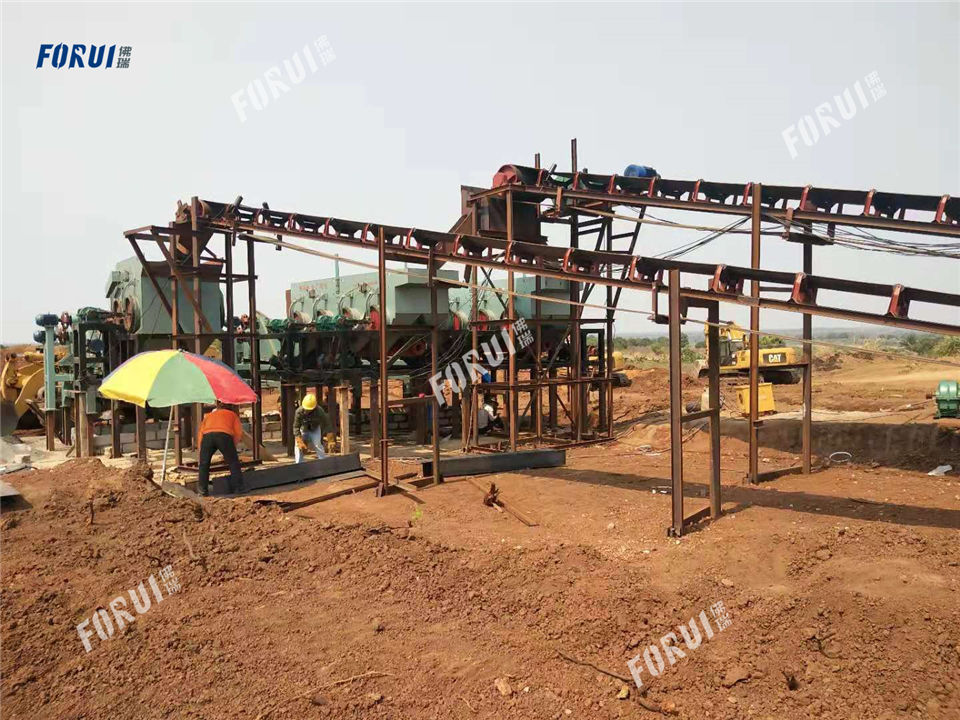 The tantalum-niobium-tin ore beneficiation test conducted by the Forui Machinery Plant for a Nigerian customer. This test mainly uses processes such as ore washing, screening, and jigging. The obtained concentrate contains 46% tantalum and niobium, 5-6% tin, and a recovery rate of 86%. We also designed a similar process for the tantalum-niobium-tin concentrator of our Rwandan customer. The final concentrate obtained contains 51% tantalum-niobium, 7.1% tin, and a recovery rate of 79%.
The craftsmanship designed by Forui Machinery Factory is simple and the equipment investment is small, but it can create huge economic benefits for customers, and finally won unanimous praise from customers.
The following picture shows the beneficiation process of tantalum-niobium ore deposits in Nigeria and Rwanda: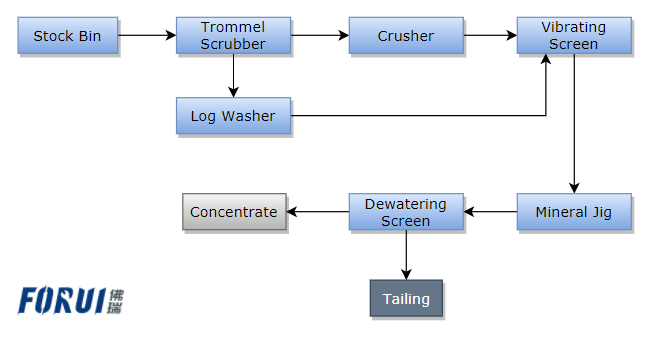 Tantalum-niobium Ore Beneficiation Equipment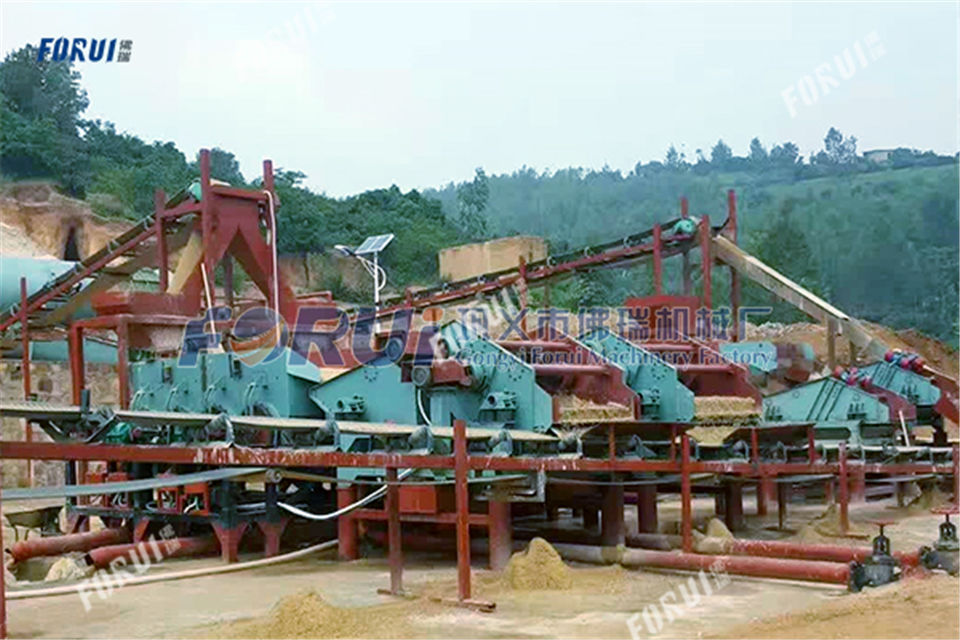 The beneficiation equipment of tantalum-niobium ore is closely related to beneficiation technology. The beneficiation of complex tantalum-niobium ore in China must comprehensively adopt crushers, ball mills, linear vibrating screens, high-frequency vibrating screens, spiral chutes, shakers, jigs, and flotation. Machine and other equipment. The African tantalum-niobium ore beneficiation equipment only needs to use equipment such as washing machines, vibrating screens, jigs, and magnetic separators to meet customer requirements.
Different types of tantalum-niobium ore beneficiation equipment in different regions require different types of tantalum-niobium ore beneficiation equipment. If you want to buy a set of satisfactory tantalum-niobium ore beneficiation equipment, you must find a professional beneficiation equipment manufacturer.
Forui Machinery has successively designed the beneficiation process and equipment configuration plan for the tantalum-niobium ore beneficiation plants in Nigeria, Rwanda, Angola, and other African countries. We have rich experience and unique technology for tantalum-niobium ore beneficiation in Africa and can provide customers Provide feasibility suggestions for beneficiation. Our factory has a complete test platform that can perform free beneficiation tests on ore samples brought by customers.
Gongyi Forui Machinery Factory, founded in 1986. We are one of the leading suppliers of beneficiation equipment in Asia. We can design and manufacture professional tantalum-niobium ore processing equipment for you. Welcome to visit our company. We are dedicated to serving you! If you need equipment quotation and process flow, please feel free to Contact Us: