Introduction to Stainless Steel Slag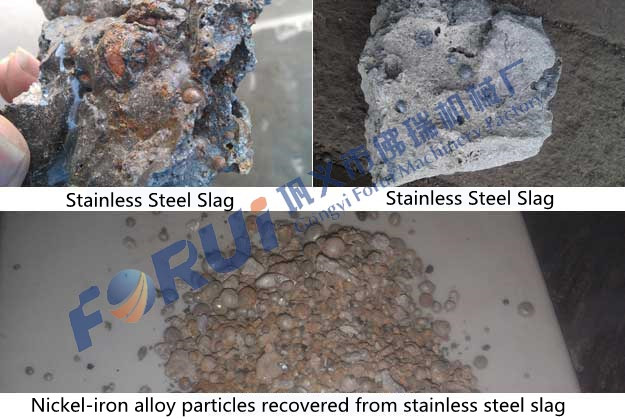 Stainless steel slag is ferronickel smelting slag, which is a solid waste slag produced in the process of smelting ferronickel. These waste slags still contain a certain amount of nickel-iron alloys. For stainless steel slags with high nickel-iron alloys, we can recycle them scientifically and reasonably.
This not only reduces the waste of resources, but also produces considerable economic benefits. Therefore, the recycling of stainless steel slag has been a hot industry in recent years. So what is the processing process of stainless steel slag? Next, we share the treatment process of stainless steel slag.
Stainless Steel Slag Beneficiation Process
Stainless steel slag is divided into two types: high-nickel alloy slag and low-nickel alloy slag. The nickel content in the high nickel alloy is relatively high, and the magnetic permeability is poor. It is difficult to achieve the ideal recovery effect by using the magnetic separation method, and the gravity separation method must be adopted. The low-nickel alloy slag has a low nickel content and has good magnetic permeability, and the nickel-iron alloy can be recovered well by the magnetic separation method.
For these two different ferronickel smelting slags, two different treatment processes are required, one is the gravity separation process and the other is the magnetic separation process.
Low-nickel Stainless Steel Slag Beneficiation Process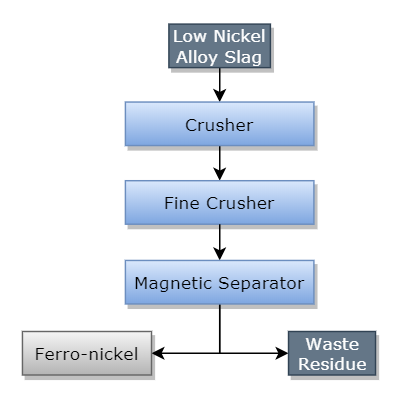 The nickel-iron smelting slag treatment process in the above figure is designed for low-nickel alloys. Low-nickel alloys have better magnetic permeability and can be completely recovered by magnetic separation, and the recovery efficiency and effect can also reach the ideal indicators. It has the advantages of simple beneficiation process and small equipment investment, which is very suitable for low-nickel alloy smelting slag treatment plants.
This process first crushes large pieces of waste residue through a crusher, and then enters the fine crusher to finely crush to obtain monomer dissociated material particles, and then use a dry magnetic separator to recover the nickel-iron alloy particles.
High-nickel Stainless Steel Slag Beneficiation Process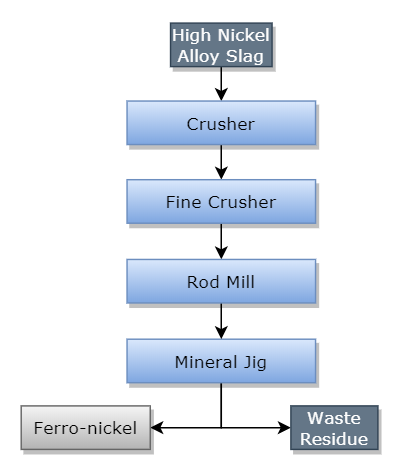 The nickel-iron alloy smelting slag above is designed for high-nickel alloys. High-nickel alloys have poor magnetic permeability and cannot be completely recovered by magnetic separation methods, which will result in a low recovery rate. Therefore, the method of gravity beneficiation should be adopted to avoid the loss of alloy particles with higher nickel content.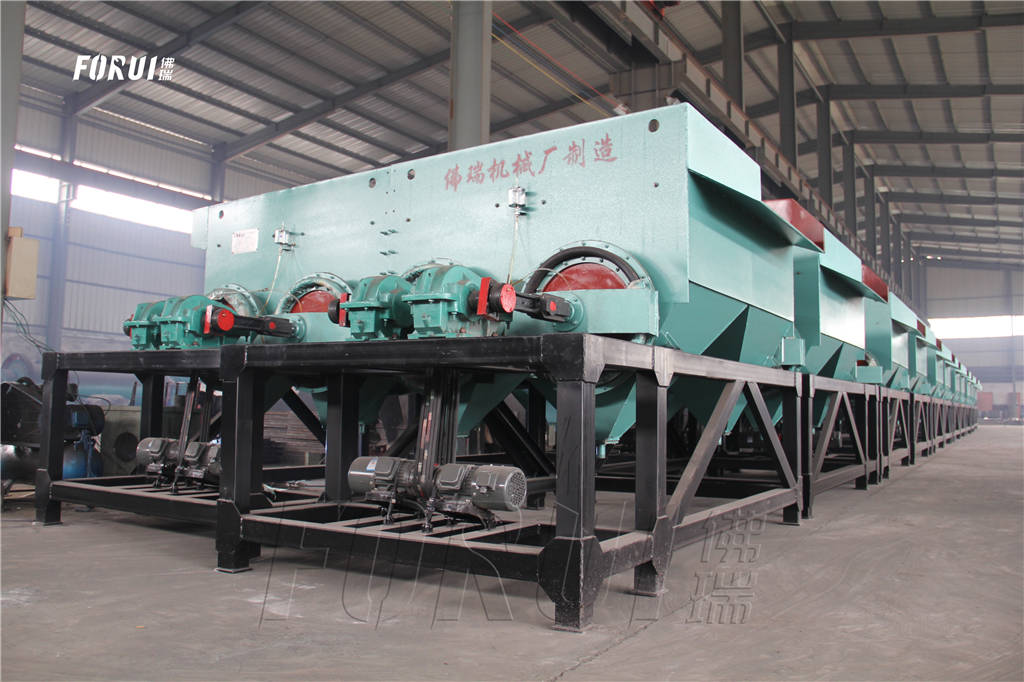 This method generally adopts a crusher and enters into a rod mill for grinding, dissociates the alloy particles in the smelting slag, and then recovers them by gravity beneficiation, and finally obtains pure high-nickel alloy particles.
Summary
The treatment process of stainless steel slag needs to be designed according to its own characteristics. Sometimes a single gravity or magnetic separation cannot achieve the best beneficiation effect. A reasonable beneficiation process and equipment configuration must be designed according to the characteristics of nickel slag to achieve the ideal. Effect. The following is the stainless steel slag treatment site we designed for our customers:
Gongyi Forui Machinery Factory is a high-quality enterprise specializing in the production of beneficiation equipment. Over the years, it has produced gravity beneficiation, magnetic separation, flotation, and other beneficiation equipment, and has accumulated a lot of practical experience. Forui Machinery is involved in a lead-zinc ore, gold ore, fluorite, barite, pyrite, hematite, limonite, magnetite, manganese ore, antimony ore, tungsten ore, tin ore, celestite, etc. In the field of beneficiation of a variety of minerals, fruitful results have been achieved.
If you need equipment quotation and process flow, please feel free to Contact Us