[Scheme Overview]
This scheme is designed according to the properties of silico-manganese smelting slag. The whole program mainly includes crushing, screening, jigging, dewatering, and other processes. This process can realize the purpose of recovering silico-manganese alloy from silico-manganese smelting slag.
[Technical Advantages]
The use of this scheme to treat silicomanganese smelting slag has the advantages of small investment, low cost, high efficiency, and no pollution. This program can recover the silico-manganese alloy in the silico-manganese smelting slag to the greatest extent. On the one hand, it can avoid the waste of useful resources and at the same time create considerable economic benefits for customers.
Silico-manganese Slag Treatment Plan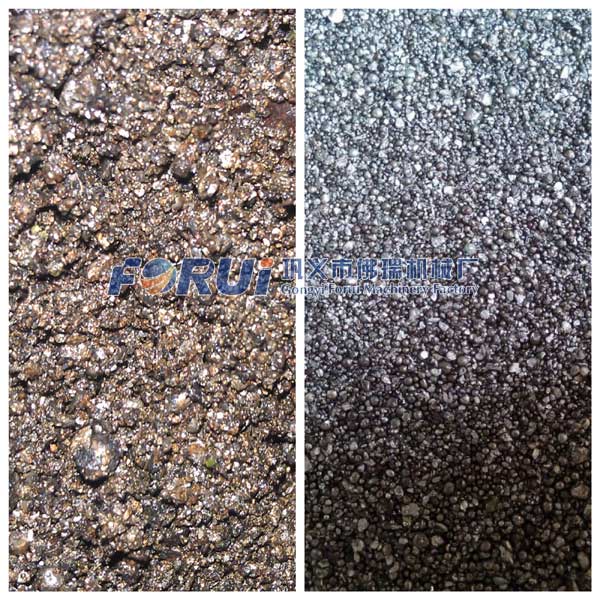 The silico-manganese slag treatment plan is summarized from the practice of Forui Machinery in serving major silico-manganese smelters for many years. This scheme starts from the actual situation, according to the specific properties of the silico-manganese smelting slag and the silico-manganese alloy, that is, using the difference in density between them to recover the silico-manganese alloy from the silico-manganese smelting slag.
The entire treatment process not only achieves low cost and no pollution but also provides convenient conditions for the treatment of industrial waste residues and reduces the waste of useful resources. It is one of the most ideal and practical solutions in the field of silicomanganese slag treatment, and it is also one of the most widely used solutions. The following is the silico-manganese alloy obtained by washing the silico-manganese slag with a jig machine and the test video:
Main Features of Silico-manganese Slag Treatment Program
Small equipment investment.
This scheme is summed up from years of practical work. It utilizes the simplest and most practical equipment and processes, thus realizing small equipment investment and high production returns.
Large processing capacity.
Use the smallest investment to achieve the greatest profitability, which is the result that all industry insiders expect. This scheme uses a jig with a large processing capacity as the sorting equipment. The jig has not only a large processing capacity but also a very low production cost.
Good work effect.
The plan uses a jig to process and recover the silico-manganese smelting slag. The silico-manganese alloy in the silico-manganese slag is washed by a jig, and the recovery rate is high. The purity of the obtained silico-manganese alloy is high, and the work effect has been recognized by the same industry.
No secondary pollution.
The scheme adopts energy-saving and environmentally-friendly gravity beneficiation technology and does not use any chemical agents in the production process. It adopts circulating water operation in production, does not emit any waste smoke, wastewater, and has no secondary pollution. It is an absolute environmental protection project.
On-site Video of Silicomanganese Smelting Slag Treatment