The beneficiation method of limonite is similar to the beneficiation method of weak magnetic iron ore such as hematite and manganese ore. They can be purified by processes and equipment such as strong magnetic separation and gravity beneficiation. Now we share the gravity beneficiation equipment and technological process of limonite ore.
The gravity beneficiation method is suitable for the purification of limonite with coarse-grained cloth and high monomer dissociation. As limonite is easy to sludge, the coarse-grained limonite should avoid grinding as much as possible. If the crushing method is used, the monomer dissociation of the limonite can be achieved, so do not use a ball mill to grind the ore as much as possible. The picture below is a picture of a Malaysian limonite sample: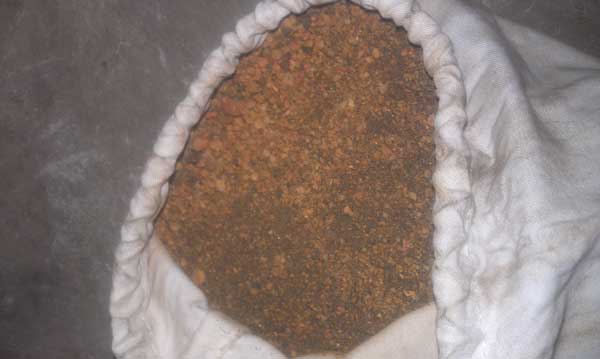 It can be seen from the above figure that the degree of dissociation of the limonite monomer is relatively high, and it hardly needs to be broken, and good mineral processing indexes can be obtained after washing and jigging. The yellow miscellaneous rocks are waste rocks, and the dark brown ones are limonite and magnetite. The ore is a magnetite-limonite symbiosis ore with a particle size not exceeding 5mm. The beneficiation process designed by Gongyi Forui Machinery Factory is magnetic separation-jigging machine-dehydration. The following figure shows the specific process flow chart: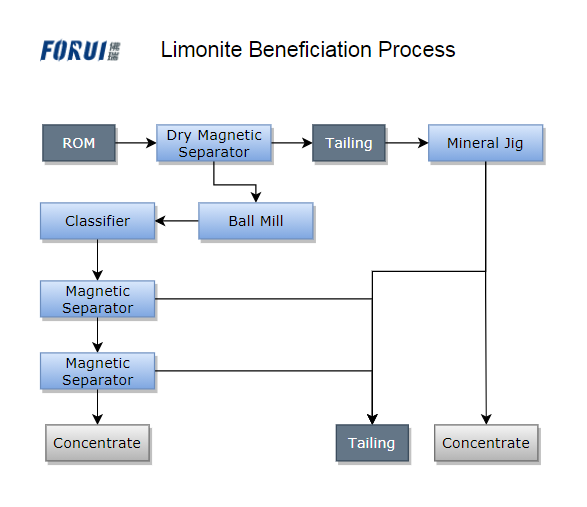 The raw ore is dry ore with low water content and small particle size. The magnetite is first extracted by a dry magnetic separator, and the tailings obtained after magnetic separation are put into the silo. An electromagnetic vibrating feeder is installed under the silo, and the magnetic tailings are evenly fed into the jigging machine for sorting, and finally the limonite concentrate is obtained. The grade of the coarse concentrate obtained by the dry magnetic separator cannot meet the requirements. Grinding, grading, and magnetic separation are required to achieve the iron concentrate standard of more than 67%.
The magnetic tailings can reach a grade of 55-63 after being beneficiated by a jig, which fully meets the requirements of customers. The customer requires a daily processing capacity of 3,000 tons, and the remaining 2,000 tons after the pre-selection of the 12003000 dry magnetic separator. The remaining 2000 tons of ore can meet the requirements by using 4 2LTC-6109/8T jigs for beneficiation. The ball mill adopts a 24004500 ball mill, which is classified by a classifier and a wet magnetic separator can obtain a 67% grade of magnetite concentrate that meets the requirements.
Gongyi Forui Machinery Factory is a professional manufacturer of limonite gravity beneficiation equipment. The factory mainly produces jigs, washing machines, vibrating screens, dewatering screens, ball mills and other beneficiation equipment. We can also conduct small-scale beneficiation experiments, design beneficiation process and equipment configuration for customers free of charge. Welcome to inquire at any time, contact number: +8618026978087.