In the previous post we shared 'What Are The Common Preparation Operations For Mineral Processing'. This time we share 'What Are the Common Mineral Processing Methods'.
Different mineral properties lead to different mineral processing methods. The common ore dressing methods are gravity concentration, flotation, magnetic separation, electric separation, chemical dressing and so on.
1.Gravity Beneficiation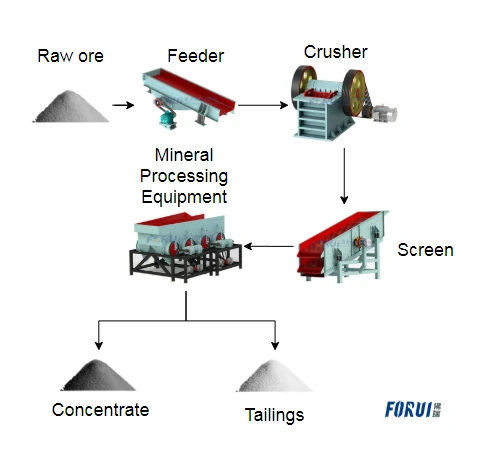 Gravity concentration is a method to separate minerals according to different mineral density and different settling velocity in the medium.
In the process of gravity separation, the separation medium includes water, air, heavy liquid and suspension. A heavy liquid is a liquid whose specific gravity is greater than that of water. A suspension is a liquid composed of water and the solid particles suspended in it. Gravity beneficiation is carried out in the medium.
It is known from physics that objects with different properties (specific gravity, volume, shape, etc.) in vacuum have exactly the same motion state (direction of motion, velocity, acceleration, etc.). Therefore, it is impossible to separate them by the force of gravity.
In media, however, it is quite different. Because of the action of buoyancy and resistance produced by the medium to the moving object, the motion state of the object with different properties will be different. So you can use this principle to separate them from each other.
2.Flotation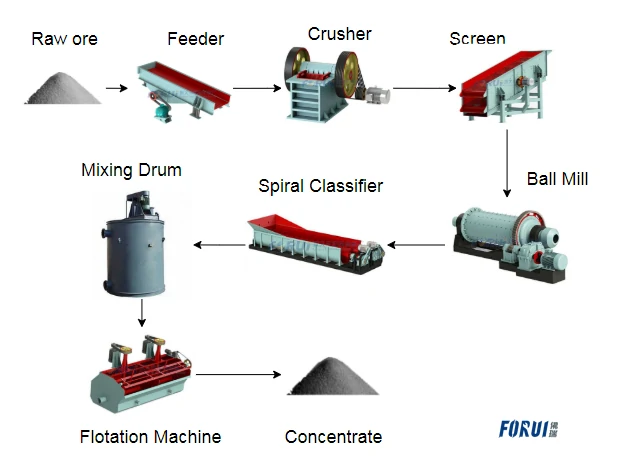 Flotation is a mineral processing method which USES the different physical and chemical properties of mineral surface to separate minerals. Foam flotation is widely used in modern industry.
Its characteristic is: the ore particle adheres to the air bubble in the pulp selectively, floats to the pulp surface with the bubble. Thus the purpose of separating useful minerals from gangue minerals is achieved.
3.Magnetic Beneficiation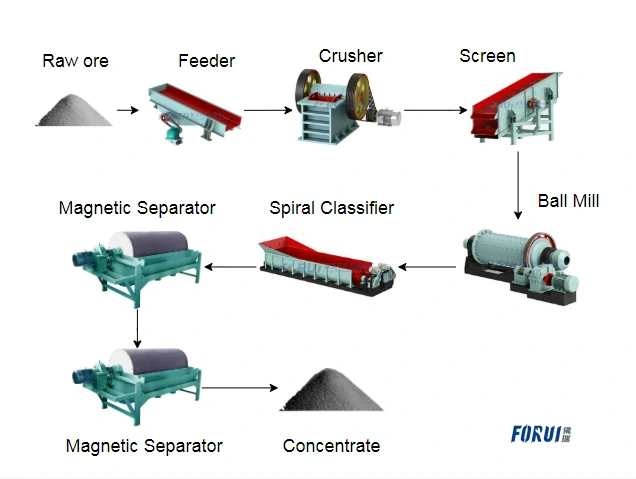 Magnetic separation is a method of mineral separation in an uneven magnetic field by using the magnetic difference between minerals.
Magnetic separation is the main method to separate ferrous metal ore, especially magnetite ore and manganese ore. Magnetic separation is also widely used in the processing of nonferrous and rare metal ores. Magnetic separation has also been used in the processing of non-metallic minerals and metallurgical products.
With the development of high gradient magnetic separation, magnetic fluid separation and superconducting strong magnetic separation, the application of magnetic separation has been expanded to chemical industry, medicine, environmental protection and other fields.
4.Electric Beneficiation
Electric beneficiation is a mineral beneficiation method in high voltage electric field by using the difference of electrical properties of minerals. It is one of the important mineral processing methods for fine grained minerals. Electric beneficiation has a wide range of uses. Electric selection can be used for:
Non-ferrous metal ore, ferrous metal ore, rare metal ore beneficiation.
Beneficiation of non-metallic ore and pulverized coal.
Purification of ceramic, glass and building materials.
Recycling of factory waste.
A beneficiation of grains, seeds and foods.
Grading and dust removal of ores and other materials.
5.Chemical Beneficiation
With the rapid development of modern industry, human demand for natural mineral resources is increasing day by day. However, the reserves of rich ore and easy beneficiation in the earth's crust are gradually decreasing due to long-term development and utilization.
The ore provided by nature to human is of lower and lower grade, finer and finer granularity, and more and more complex composition. For many ores similar to those mentioned above, conventional physical beneficiation is no longer effective.
The chemical dressing method or the combination of chemical dressing and physical dressing method can be used to extract the useful components effectively and reasonably, and obtain higher economic benefits.
Gongyi Forui Machinery Factory, founded in 1986. We are one of the leading suppliers of beneficiation equipments in Asia. Don't hesitate to Contact Us, if you have any question of beneficiation. And welcome to visit our company. Gongyi Forui Machinery Factory dedicated to serve you!