INTRODUCTION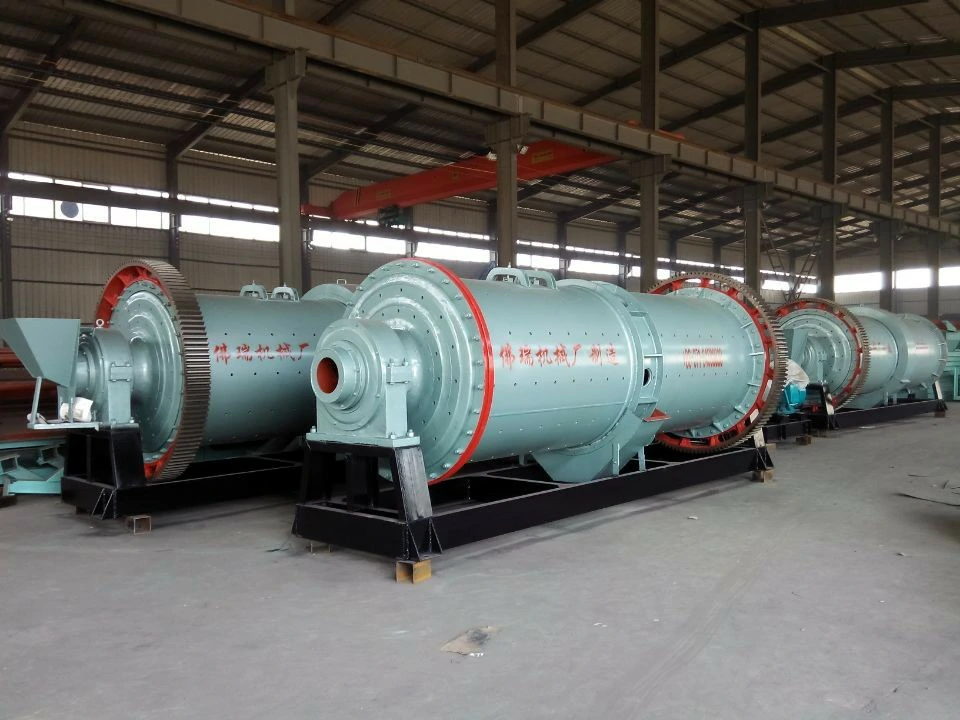 Rod mill is a kind of mill with steel rod in the barrel. It is generally used as a wet overflow type, can be used as a primary open-circuit grinding, widely used in artificial sand, concentrator, chemical plant power sector of the primary grinding.
STRUCTURE of ROD MILL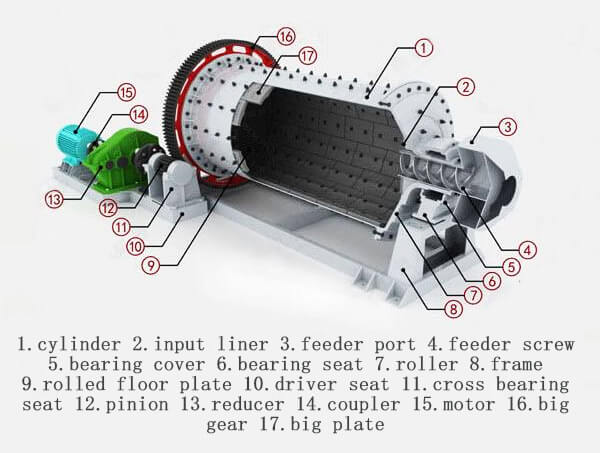 It is mainly composed of motor, main reducer, transmission part, barrel part, main bearing, slow transmission part, feeding part, discharging part, ring seal, thin oil lubrication station, jet lubrication of gears, base part and so on.
PRINCIPLE
It is an asynchronous motor connected with a pinion through a reducer, which directly drives the large peripheral gear to decelerate and rotate, and drives the rotary part to rotate. A suitable grinding medium, steel rod, is installed inside the barrel. The grinding medium moves constantly under the action of centrifugal force and friction force. The ore is continuously fed into the barrel of rod mill. The ore is crushed by a moving grinding medium and the product is expelled from rod mill by a force of overflow and continuous feeding. Then proceed to the next step.
It is generally used when product granularity 80% less than 2.0% to 0.5 mm is required. The product size is generally not more than 4.7 mm and not less than 0.4 mm. 80% of the feed size is between 4 mm and 20 mm. The maximum size of the ore can be up to 50 mm. Its crushing ratio is between 15:1 and 20:1.
TYPES of ROD MILL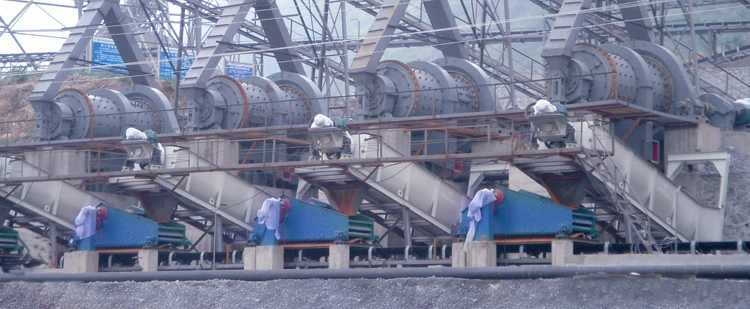 There are three general purpose rod mills. Including: overflow type, end peripheral discharge type, central peripheral discharge type.
Overflow type: It is most commonly used. Its product size is finer than that of the other two types. It is generally used for grinding broken products, and then supply the ball mill use. His product size is about 0.5-2 mm.
End peripheral discharge type: It is generally used for dry ore mill. His products are coarse-grained. Rod mills can also be used for wet grinding. High gradient and better flow rate can be obtained by using the peripheral rod mill. His product size is about 2-5 mm.
Central peripheral discharge type: It can be used for wet and dry grinding. His products are coarser. Material is fed in from both ends of rod mill. The grinding process is short and the product is quickly removed. His product has a high gradient. The equipment is mainly used in the aggregate industry to produce sand and gravel.
FEATURES
The steel rod of rod mills belongs to linear contact, so the large material is first subjected to the action of grinding. It has the advantages of selective grinding, high efficiency and energy saving, uniform particle size, less over-crushing, and suitable for ores with different hardness (Mohs hardness 5.5~12).
Gongyi Forui Machinery Factory, founded in 1986. We are one of the leading suppliers of beneficiation equipments in Asia. Don't hesitate to Contact Us, if you have any question of beneficiation. And welcome to visit our company. Gongyi Forui Machinery Factory dedicated to serve you!