Overview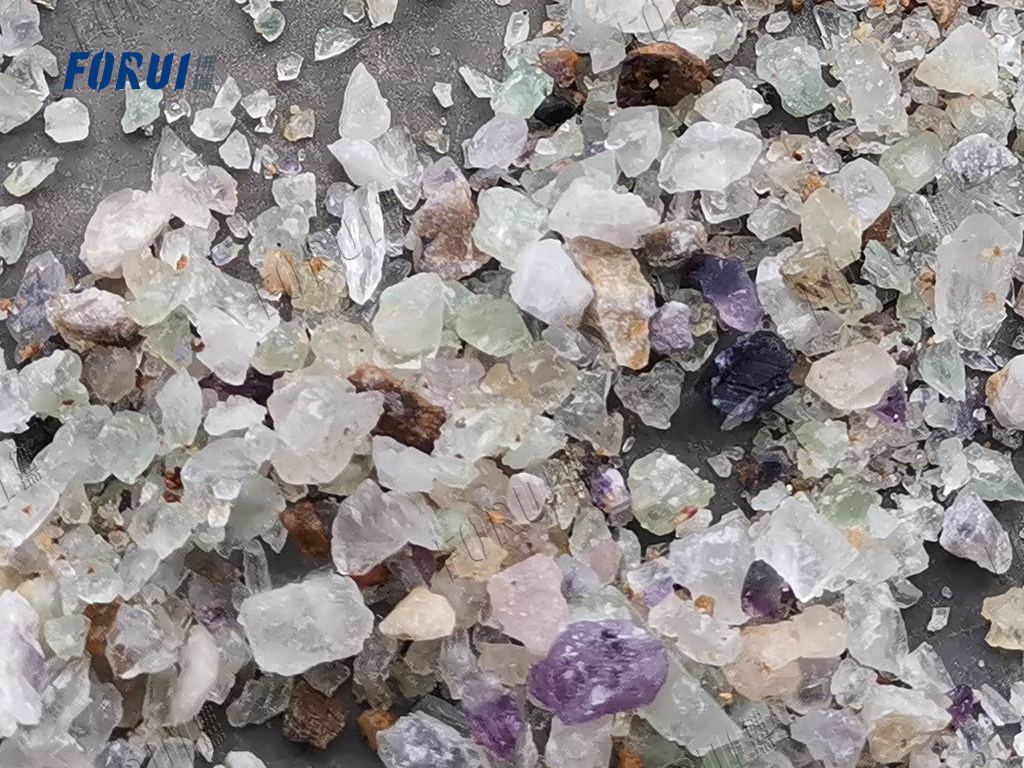 Fluorite ore is an important mineral resource and plays a very important role in metallurgy, chemical, and other industries. As a mineral resource, fluorite ore can be used directly without treatment. Therefore, most fluorite ore needs to be processed and purified before it can be used. So what is the beneficiation process of fluorite ore? Gongyi Forui Machinery Factory is here to introduce the beneficiation process of fluorite mine for the reference of related parties.
The beneficiation process of fluorite ore needs to be formulated according to various factors such as the nature of the ore and the grade of the concentrate required by the customer. Generally, the beneficiation of metallurgical grade fluorite concentrate only needs to be hand-selected and gravity beneficiation is enough. For the production of fluorite concentrates used in the acid-grade chemical industry, flotation methods are needed to obtain them. The process discussed in this article is mainly used to process fluorite ore through manual separation, gravity separation, and flotation combined process, which has strong representativeness. The following is the flow chart of the fluorite beneficiation process: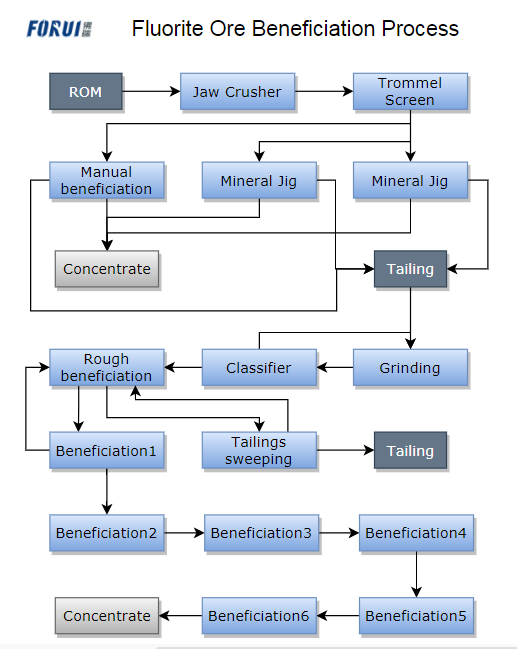 Fluorite beneficiation process
1. Crushing and screening process
Fluorite is fragile. The crushing process adopts a simple jaw crusher to avoid excessive powdery fluorite ore. The screening adopts a cylindrical screen with high screening efficiency and thorough screening. We need to strictly screen the products obtained after crushing, and divide the crushed fluorite ore into three grades of +30mm, 8-30mm, and 0-8mm.
2. Hand selection process
Hand selection means manual handpicking and discarding of large gangues, and picking out coarse-grained fluorite concentrate. Manual selection is generally carried out on a horizontal belt conveyor with adjustable speed, and qualified concentrates are selected by the manual picking method.
3. Gravity beneficiation process
The gravity beneficiation process uses a jig to perform gravity beneficiation on medium-sized and fine-particle fluorite ore, and obtain a mixture of granular concentrate and hand-dressed concentrate as a coarse-grained metallurgical grade fluorite product. The tailings and hand-selected tailings are mixed into the grinding process.
4. Flotation process
Fluorite belongs to easy-floating ore, and the flotation process includes grinding, grading, flotation, and other processes. The flotation of fluorite ore is mainly a separation operation based on the difference in floatability between fluorite and gangue. The collectors used in fluorite flotation are usually: fatty acids such as oleic acid or oxidized paraffin soap and their soaps as collectors, and the best flotation temperature is 30-35 degrees. Sodium carbonate is used as a regulator and water glass as an inhibitor during flotation, and the best flotation temperature is 30-35 degrees.
As acid-grade fluorite powder requires high grade, the flotation process is generally designed with multiple beneficiation processes, of which the beneficiation process is no less than 3 times. There are a total of 6 selection processes for this process, and the final fluorite concentrate grade is guaranteed to be above 97%.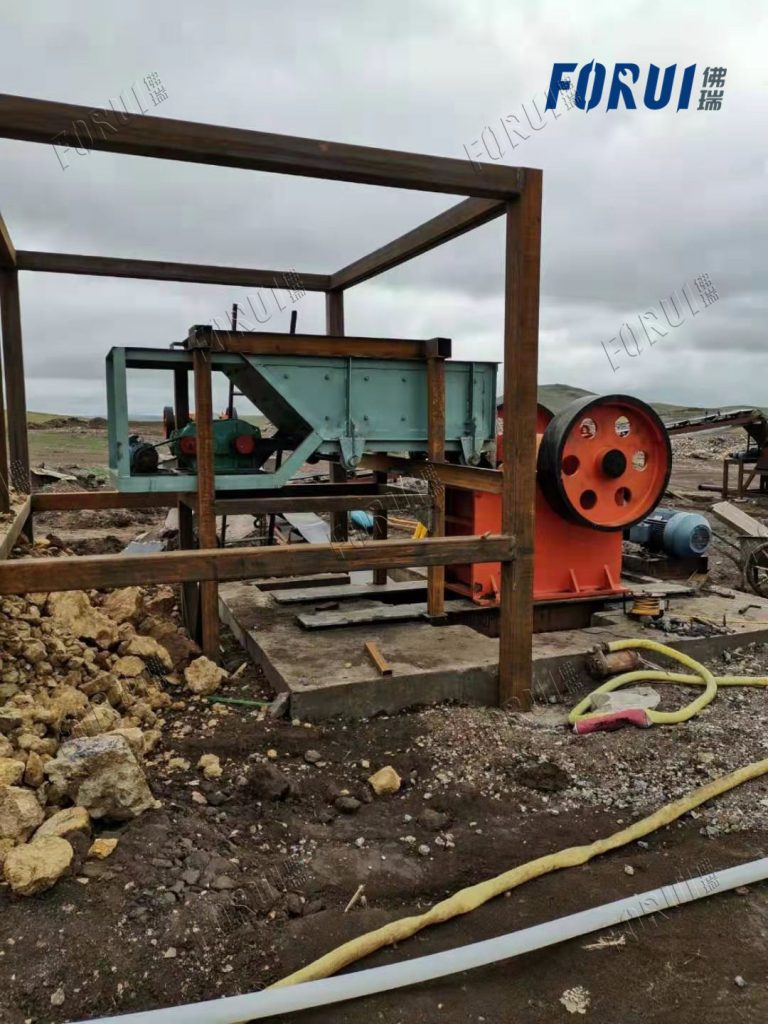 The beneficiation process of fluorite ore needs to be determined according to the nature and use of the fluorite ore. For the beneficiation of coarse-grained conjoined fluorite, the method of hand-gravity beneficiation is generally used to obtain metallurgical grade fluorite concentrate. The flotation method is generally used to prepare high-quality fluorite powder from fine-grained embedded low-grade fluorite ore.
Gongyi Forui Machinery Factory is a professional ore dressing equipment manufacturer. The factory mainly produces jigs, magnetic separators, flotation machines, ball mills, classifiers, and other fluorite beneficiation equipment. At the same time, we will design the fluorite beneficiation process and equipment configuration for customers, and welcome customers to visit our factory for guidance. If you want more information, don't hesitate to contact us.