Overview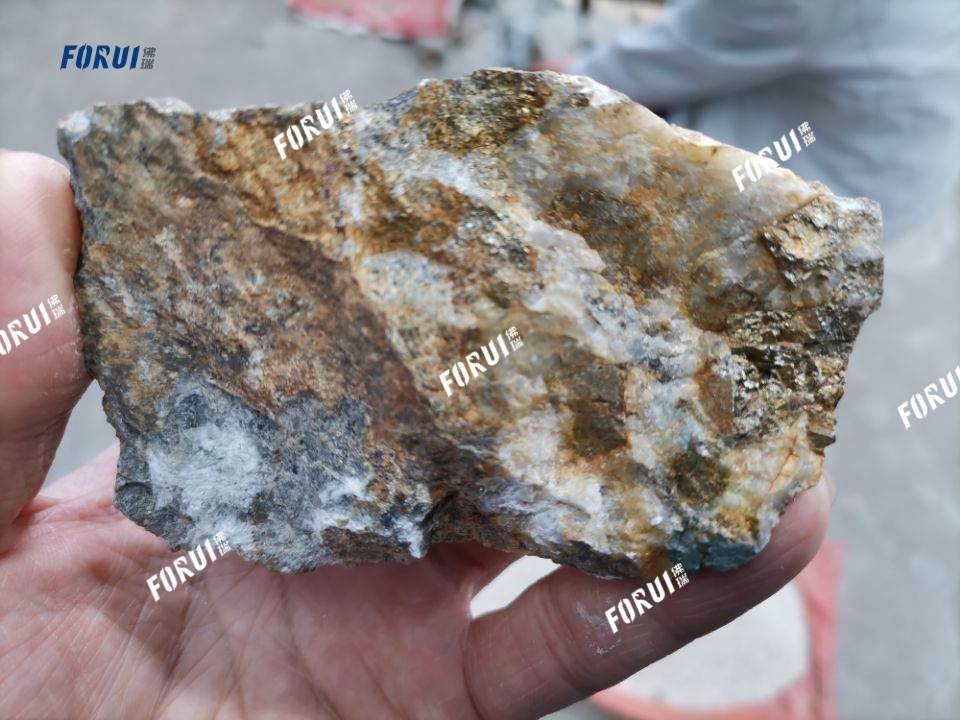 Sulfide gold ore is a rock gold ore in which natural gold and sulfide (usual pyrite) coexist. The symbiosis of natural gold and sulfide means that pyrite is a gold-carrying body. Under normal circumstances, the sulfides are extracted together in the beneficiation process, so that the gold recovery rate can be guaranteed. Then the gold is extracted from the sulfide by methods such as calcination or cyanidation.
Sulfides are mostly coarse-grained in sulfide gold ore, with a specific gravity of 4.9-5.2, which has a significant difference in specific gravity from the associated gangue. Therefore, it is completely feasible to recover sulfide ore by the gravity beneficiation method. The gravity beneficiation method can effectively recover sulfide ore in ore, while gold is wrapped in sulfide ore. Therefore, the process of extracting sulfide ore from ore is also the process of gold ore beneficiation.
Gold sulfide beneficiation equipment and method
The use of gravity beneficiation method to extract sulfide from ore is the simplest and most efficient method. Commonly used gravity beneficiation equipment includes jigs, centrifuges, shakers, etc. Because it is a preliminary beneficiation, a jig with large processing capacity and high recovery rate is usually used for beneficiation. After the raw ore is crushed, most of the monomers between the pyrite and the gangue are dissociated, and then it enters the jig for preliminary beneficiation to obtain sulfide concentrates and tailings. In this process, it is necessary to adjust the technical parameters of the jig to make it have a higher recovery rate, instead of directly obtaining the final concentrate. The purpose of this is to ensure the efficiency of beneficiation and at the same time to ensure the recovery rate of gold.
After the rough separation of the gravity beneficiation process, most of the associated gangue has been discarded. Therefore, the equipment investment and beneficiation cost of the subsequent flotation or other beneficiation processes will be greatly reduced, and the equipment efficiency can also be achieved to a greater extent. Improvement. The gravity beneficiation enrichment process can not only improve the beneficiation efficiency of the entire beneficiation plant but also reduce the cost of beneficiation and equipment investment. Especially for the beneficiation of coarse-grained embedded gold sulfide ore, the gravity beneficiation enrichment process is very necessary.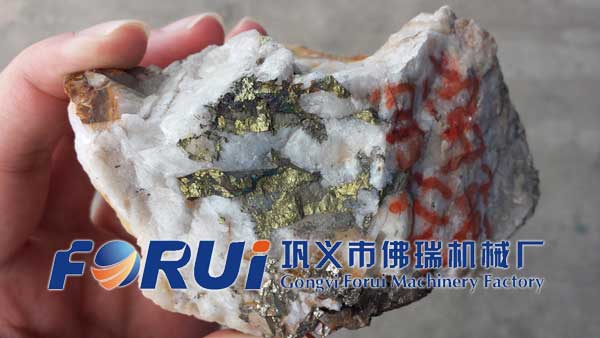 The photo above is our customer's raw sulfide gold ore. The ore is a sulfide polymetallic ore, the sulfide ore is pyrite, gold, silver, copper, lead and other metals co-exist with pyrite, and the associated gangue is quartzite. It can be seen from the photo that the grain size of pyrite is relatively coarse, which has this obvious boundary with gangue, which is very suitable for gravity beneficiation enrichment.
Gold Gravity Beneficiation Equipment
Gongyi Forui Machinery Factory, founded in 1986. We are one of the leading suppliers of beneficiation equipment in Asia. We can design and manufacture professional sulfide gold ore processing equipment for you. Welcome to visit our company. We are dedicated to serving you! If you need equipment quotation and process flow, please feel free to Contact Us: