Overview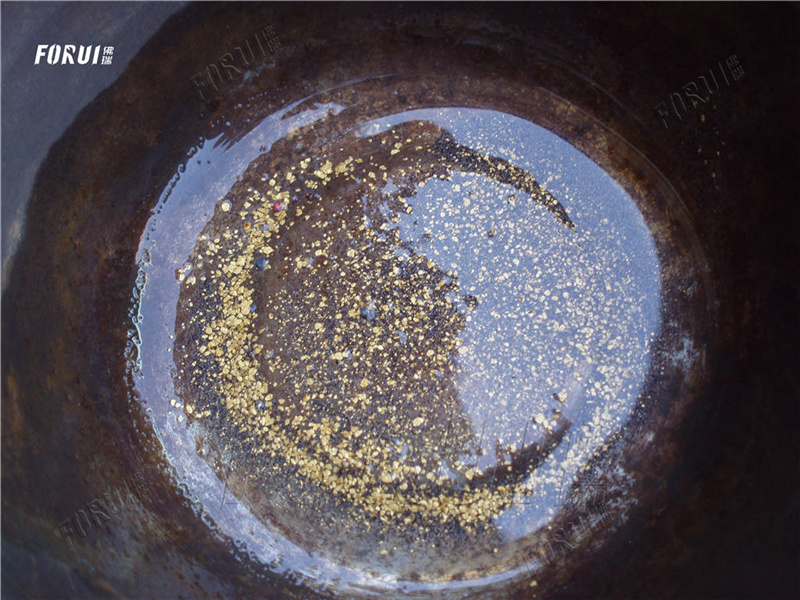 The beneficiation method of alluvial gold ore is relatively simple. Generally, the final concentrate can be obtained by screening-roughing-beneficiation. In actual production, it is necessary to determine the beneficiation process and equipment configuration according to the mineral characteristics.
For example, if there is a large amount of mud in the run of mine ore of a gold mine, washing and desliming is required to avoid the loss of gold due to gold particles being wrapped in the mud. If the gold content in the gold mine is very low, it is best to undergo pre-enrichment. For example, when the gold content is less than 0.3g/ton, you can first use a sluice box or a vibrating sluice box for enrichment, and after the gold content is enriched to a certain level, then use jigs and other beneficiation equipment for purification. If the amount of alloy is high, it is best to directly enter the jig for beneficiation to avoid the loss of gold when using the sluice box.
The specific process flow needs to be determined according to the nature of the specific placer gold mine, because almost every placer gold mine is a unique mine.
Placer Gold Beneficiation Equipment Introduction
1. Placer Gold Beneficiation and Screening Equipment
There are large pebbles and gold-free waste rocks in alluvial gold mines. To improve the efficiency of beneficiation, these gold-free waste rocks must be screened out first, so screening equipment is needed.
The screening equipment of alluvial gold mine is mainly vibrating screen and drum screen, and sometimes drum washing machine is also used. For alluvial-gold mines that contain only a small amount of stones and fine sand in the ore, and the soil content is low, a circular vibrating screen can be used directly to obtain a good screening effect. For alluvial gold mines containing a certain amount of viscous soil, drum screens are usually used for screening. The screening effect is better than that of vibrating screens, but the efficiency is lower than that of circular vibrating screens. For alluvial gold mines with high cohesive soil content and gold wrapped in the soil, it is necessary to consider the use of a cylinder washing machine to wash and screen the place gold ore. The drum washing machine not only has the function of washing ore, but also the function of screening. Therefore, for alluvial-gold mines with high cohesive soil, a cylindrical ore washing machine is generally used for ore washing and screening.
2. Gravity Beneficiation Equipment for Placer Gold
Most of the gold exists in the fine sand after the ore washing and screening process. To extract gold from these fine sands, gravity beneficiation equipment is required. Due to the low content of gold in alluvial gold mines, high-efficiency and energy-saving gravity beneficiation equipment must be used. The gravity beneficiation equipment usually used in alluvial gold mines are jigs, sluice boxs, shakers and centrifugal gold separators. The jigging machine is used to process alluvial gold mines with higher gold content and higher recovery rate, and the sluice box is used for alluvial gold mines with lower gold content and higher processing capacity requirements. Shakers and centrifugal gold separators are often used in the beneficiation process of placer gold mines.
3. Placer Gold Further Beneficiation Equipment
After the rough beneficiation of the placer gold ore, it needs to go through a further beneficiation process to get the final gold. Commonly used placer gold mine selection equipment includes shaker, centrifugal gold separator, amalgamation cylinder, etc. Shaker and centrifugal concentrators belong to gravity beneficiation equipment, with simple operation and convenient maintenance. The amalgamation cylinder is a compulsory amalgamation device, with a high recovery rate of gold, and is the oldest and most commonly used gold selection device.
The beneficiation method of the placer gold ore is very simple, but the corresponding placer gold beneficiation process and the placer gold beneficiation equipment must be designed according to the specific properties of the placer gold ore. Only in this way can the effect and profit of the placer gold beneficiation be guaranteed. Gongyi Forui Machinery Factory is a professional manufacturer of beneficiation equipment. Our factory has very rich experience in placer gold beneficiation and can conduct free placer gold beneficiation tests for customers, design the process flow and equipment configuration of placer gold beneficiation. Welcome to inquire: +8618026978087
You may also be interested in the following articles:
Gongyi Forui Machinery Factory, founded in 1986. We are one of the leading suppliers of beneficiation equipments in Asia. Don't hesitate to Contact Us, if you have any question of beneficiation. And welcome to visit our company. Gongyi Forui Machinery Factory dedicated to serve you!