Overview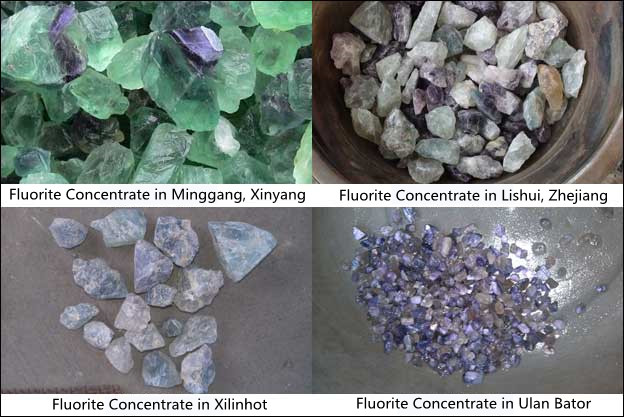 Fluorite ore is a relatively common non-metallic mineral resource. It has very important applications in the chemical and metallurgical industries, but the original fluorite ore cannot be directly used in industrial production. Because it contains more impurities and the grade does not meet the industrial requirements, it is necessary to purify the fluorite ore before it can be used in industrial production.
Fluorite Beneficiation Method
There are two main methods for the beneficiation of fluorite. The first is the more common gravity beneficiation method, and the second is the flotation method. The former is used to produce metallurgical-grade fluorite mineral products with large disseminated grain sizes, and the latter is used for the beneficiation of low-grade and fine disseminated grain size fluorite ore.
With the continuous expansion of the mining industry, Many fluorite mines are already severely barren, and a large number of low-grade fluorite mines have been exposed. This makes the miners helpless. If these low-grade fluorite mines are purified directly by flotation methods, the cost is too high and there is no profit at all.
Therefore, many customers call us to inquire whether it is possible to pre-enrich this low-grade fluorite ore by gravity beneficiation, and then enter the flotation process after reaching a certain grade? This idea is completely feasible, but for different types of fluorite mines, this idea may not always be successful.
Because fluorite ore is divided into two types of structure: large-grained disseminated and fine-grained disseminated ore, the large-grained fluorite ore can be dissociated after being crushed, and then it can be enriched by gravity beneficiation. The fine-grained fluorite ore needs to be ground to a certain extent before the monomers can be dissociated, and the effect of gravity beneficiation of this kind of fluorite ore is greatly reduced. Therefore, not all fluorite ore can be enriched by gravity beneficiation by a mineral jig and then purified by flotation.
Fluorite Gravity Beneficiation Equipment
Gongyi Forui Machinery Factory, founded in 1986. We are one of the leading suppliers of beneficiation equipment in Asia. We can design and manufacture professional fluorite processing equipment for you. Welcome to visit our company. We are dedicated to serving you! If you need equipment quotation and process flow, please feel free to Contact Us: