Overview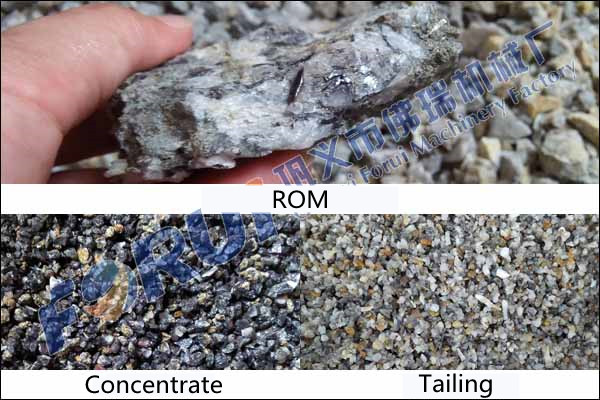 Wolframite is the most important ore for refining tungsten. Because it contains different proportions of iron tungstate and manganese tungstate, the one with higher iron content is called ferberite, and the one with more manganese is called huebnerite.
Wolframite is brown to black, with metallic or semi-metallic luster. Generally, it is produced in granite and quartz ore together with tin ore, and wolframite is produced in high-temperature hydrothermal quartz veins. As a mineral resource, primary wolframite cannot be used in industrial production due to its low content and must be purified. Below we will share the beneficiation equipment and beneficiation methods of wolframite.
Wolframite Beneficiation Equipment and Beneficiation Method
The picture below is a photo of wolframite ore, from which we can see that the crystals of wolframite are large, and the grain size is large embedded in the ore. There is a clear boundary between wolframite and quartz veins, through the method of crushing. A higher degree of monomer dissociation can be achieved.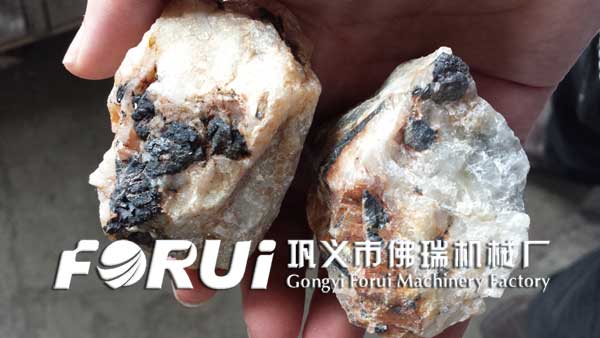 The density of wolframite is 7.2-7.5, and most of the quartz vein density does not exceed 2.6. Therefore, there is a relatively high density difference between the two, and the method of gravity beneficiation can be used for purification. In fact, the beneficiation of wolframite is mainly based on gravity beneficiation, because wolframite is mostly embedded with a large particle size, and there is also a significant density difference between wolframite and gangues. Gravity beneficiation is the most The simple and most efficient method.
Wolframite Gravity Beneficiation Process
The general process of gravity beneficiation is crushing -> screening -> jigging -> dewatering. Because wolframite generally has weak magnetic properties, strong magnetic separation can also be used as a method for beneficiation of wolframite. Therefore, in some cases, a strong magnetic separation method is used to further recover fine-grained wolframite in the tailings after jigging.
Wolframite Gravity Beneficiation Equipment
The beneficiation equipment of wolframite mainly includes crushers, circular vibrating screens, rod mills, storage bins, feeders, mineral jigs, dewatering screens, conveyors, etc. Combining these equipments to form a gravity beneficiation production line for gravity beneficiation and purification of wolframite not only has the advantages of energy saving, high efficiency, and environmental protection, but also has the advantages of small equipment investment, low production cost, and high beneficiation efficiency. It is currently the best equipment configuration for wolframite beneficiation.
You may also be interested in the following articles:
Gongyi Forui Machinery Factory, founded in 1986. We are one of the leading suppliers of beneficiation equipment in Asia. We can design and manufacture professional hematite processing equipment for you. Welcome to visit our company. We are dedicated to serving you! If you need equipment quotation and process flow, please feel free to Contact Us: